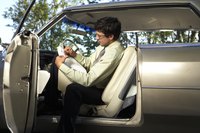 A vehicle refinance involves taking out a new loan to pay the balance of your current loan. Whether it makes good financial sense depends on your goals. For example, some people refinance to get a better interest rate and save money over the life of the loan. Others look to refinancing as a way to lower monthly payments and create breathing room in a monthly budget. Some want to achieve both. Regardless of your goals, both you and your vehicle will first need to qualify.
Qualification Requirements for You
Lenders consider your credit score, payment history and monthly income as qualifying factors for refinancing a vehicle. If your goal is to qualify for a better interest rate, you should at least have a credit score similar to the one you had when you got the original loan, and many lenders will require you to have a higher score. Although you might not save money on interest, extending the length of a new loan may reduce monthly payments. Your existing vehicle loan should also be in good standing with no late payments. In addition, lenders usually have a minimum monthly income requirement. For example, to qualify for a refinance at CarsDirect, your combined household income must be at least $2,000 per month as of publication.
Qualification Requirements for Your Vehicle
Although vehicle requirements vary between lenders, most focus on the age of the vehicle, mileage and how much you currently owe. For example, as of publication CarsDirect requires that the vehicle be no more than seven years old and have no more than 80,000 miles, and the outstanding loan balance must be at least $10,000. While CapitalOne does not have a maximum mileage restriction, the vehicle can't be more than seven years old and the outstanding balance must be between $7,500 and $30,000.