Home survival kits are a necessity for every household. A home survival kit contains items to aid families in emergencies and natural disasters from storms to power outages. Every survival kit should include necessities like food and water, medicine, first aid kits, flashlights, bedding and any other items that may not be readily available for all members of the family. Families should be prepared for situations when they cannot leave the house for several days. Items can be stored in camping packs or duffel bags, in sealable plastic bags. Every family member should know where to find the emergency kit.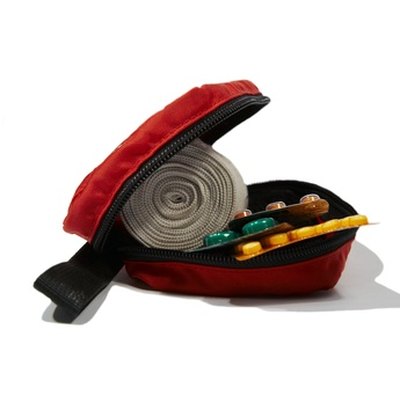 Food and Water
Food and water are among the necessities in your survival kit. Households should store at least 1 gallon of drinking water per person per day, and it is recommended to store at least three days' worth, plus additional water for cooking and sanitation needs. Additionally, households should store at least a three-day supply of nonperishable foods that require no refrigeration and little to no water to prepare. Families should store high-energy foods, ready-to-eat meals, canned juices, vitamins and food for infants. It is also a good idea to pack comfort foods like nuts or even candy bars.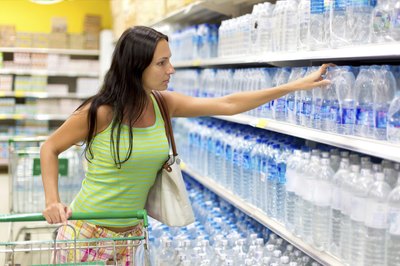 First Aid Kit
Households should have a first aid kit for the home and one for each car. According to the American Red Cross, each first aid kit should include various sized bandages, sterile dressing, a conforming roller gauze bandage, two triangular bandages, two 3-by-3 sterile gauze pads, two 4-by-4 sterile gauze pads, one roll of 3-inch cohesive bandage, germicidal hand wipes or sanitizer, antiseptic wipes, large medical non-latex gloves, adhesive tape, anti-bacterial ointment, a cold pack, scissors and tweezers. It also is a good idea to pack a space blanket, emergency knife and waterproof matches, especially in your vehicles.
Drugs
Vital non-prescription drugs include aspirin or pain relievers, antacids, laxatives, activated charcoal and syrup of ipecac, which can be used to induce vomiting if advised by Poison Control Center. Anti-diarrhea medication is also essential, especially in cases where amounts of drinking water are limited. It is also a good idea to keep prescription medications on hand, as well as any pet medications, insulin and contact lenses.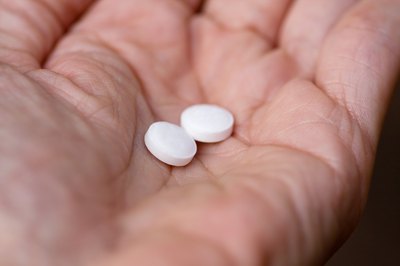 Tools, Supplies and Bedding
Some of the other essentials for a survival kit include disposable plates, cups and utensils, toilet paper, bleach, feminine products, soap, hygiene products and garbage bags. Kits should contain one change of clothing and footwear per person, as well as rain gear, thermal underwear, sunglasses, work boots, diapers for infants, and blankets or sleeping bags for every family member. Other items include batteries of all sizes, a battery-powered radio, flashlights, non-electric can opener, utility knife, tape, pliers, wrench, a compass, a whistle, a tent, aluminum foil, plastic sheeting, plastic containers, needle and thread, signal flare, cash, change for a pay phone, paper, and writing utensils. You should also keep vital information like phone numbers and bank account numbers on hand.