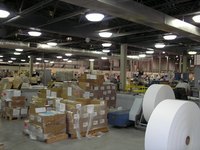 Inventory control is a system put in place to make sure there are adequate materials on hand to either manufacture the product to be sold or to directly sell. Businesses without an inventory control system may purchase these products without a thorough understanding of how much is needed and how much is currently on hand. These educated guesses can lead to some problems for the company. Meanwhile having a solid inventory control system in place has several advantages.
Makes JIT Possible
JIT is a frequently used inventory ordering system that requires the use of an effective inventory control system and a solid understanding of the demand of the products a company sells. JIT stands for "just in time," meaning that supplies arrive from the supplier just in time to be made into products and products are produced just in time to fulfill orders.
Lowers Cash-Flow Pressures
When inventory is ordered without a real system in place, it is merely an estimate of what may be needed. An inventory control system based on actual data allows for ordering the right amount of inventory at the right time so that demand is met without carrying excess items in the warehouse.
A system that can accomplish this will free up the cash that may be unnecessarily spent on the inventory guessing game at a company without an effective system. Having more products on hand than can possibly be sold will only mean there is less cash available to accomplish other goals within the company.
Fewer Missed Sales Opportunities
The flip side of stocking too much inventory because of a lack of inventory control is the absence of a product for the same reasons. Guessing the amount of an item to order from a supplier may leave the company short of what the demand is, meaning the consumer will not be able to buy what she is looking for should she show up when the inventory is lacking a product.
Most businesses rely on money made from sales in order to be successful. If the company cannot make the sale for any reason, they suffer for it. Having inventory control in place will help eliminate this sort of problem and will improve the reputation of the company among customers who always know they can count on the business to have what they need when they need it.
Awareness of Discrepancies
With a proper inventory control system in place, it is easy to compare physical inventory counts to the numbers in the system. If there is a discrepancy, management will know about it immediately instead of the missing or excess items being overlooked for weeks or months.
If an employee is stealing or if mislabeling or point-of-sale software glitches are causing an item to ring up as something else, this type of inventory control will help identify the problem so that it can be remedied quickly and have the least possible effect on business.