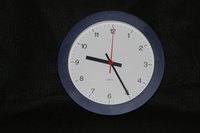 Scheduling software can benefit businesses of all sizes as it streamlines the scheduling process so managers are able to spend less time creating work schedules and more time dealing with customers and training employees. The type of scheduling software purchased should be dependent on its individual features and how these features will benefit your business model.
Reduce Administrative Costs
Scheduling software streamlines the process of creating schedules by offering features developed to enhance productivity, thus taking less time to create employee schedules. By reducing the amount of time it takes to create employee schedules, employers do not have to worry about paying overtime or scheduling additional staff members. Some of the features found within scheduling software include checks and balances to ensure scheduling does not conflict with employee availability as well as eliminating hard copy paperwork as employee availability forms are stored on computer hard drive.
Easier Schedule Alterations
If an employee is unable to work a scheduled shift or the approved schedule needs to be altered, PC scheduling software is able to streamline this process by simply removing an employee name and replacing it. How this process is done can vary from product to product, but every scheduling software package should come with features to easily manipulate schedules.
Delegate Tasks
Managers are able to easily delegate daily tasks by including notes or tasks within an employee's schedule. Daily tasks can be color coded as a master list given to employees so they know when their shift is highlighted a certain color they are responsible for the task. However, managers can utilize other features within their specific scheduling software to delegate tasks.