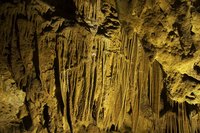 Howes Cave, New York, is a hamlet within the town of Schoharie, west of Albany in upstate New York. Howes Cave is best known as the home of Howe Caverns, "a living, limestone cave, carved by an underground river over the course of millions of years, located 156 feet (15 stories) below the earth's surface," according to the Caverns' website. The hamlet is also home to the Iroquois Indian Museum. Visitors can find a few places to stay in Howes Cave, and more in other parts of Schoharie.
Howe Caverns Motel
The Howe Caverns Motel is the "official" motel of Howe Caverns, located within the park's gates, across from the visitors' center. The motel overlooks "the beautiful mountains and peaceful valleys" of Howes Cave, according to the Howe Caverns website. Most rooms at the motel have a microwave and a refrigerator, and all have a coffeemaker and satellite television. The motel's outdoor swimming pool is open from July 1 until Labor Day, when weather permits. The Howe Caverns Motel has a no-smoking policy and does not allow pets.
Howe Caverns Motel 255 Discovery Drive Howes Cave, NY 12092 518-296-8950 howecaverns.com
Holiday Motel
Holiday Motel is the only other hotel or motel within the hamlet of Howes Cave. The motel is located right outside the gate to Howe Caverns, making it especially convenient to the park. The Iroquois Indian Museum is also close by. Holiday Motel has an outdoor swimming pool and a playground on site for the kids. All rooms have cable television. The motel has an on-site, full-service restaurant and lounge called Boreali's Restaurant. It is open for lunch and dinner seven days a week.
Holiday Motel 2937 State Route 7 Howes Cave, NY 12092 518-296-8500
Holiday Inn Express Schoharie
The Holiday Inn Express Schoharie is just a few miles away from the hamlet of Howes Cave. It's "nestled in the foothills of the Catskill Mountains," according to the inn's website. Besides Howe Caverns, other nearby attractions include the Iroquois Indian Museum and Schoharie's Old Stone Fort Museum, a late eighteenth-century church that was attacked by the British during the Revolutionary War. The inn has an on-site health and fitness facility and offers free high-speed Internet access. A free continental breakfast is served each morning, and a number of restaurants are just a short drive away.
Holiday Inn Express Schoharie 160 Holiday Way Schoharie, NY 12157 518-295-6088‎ holidayinnexpress.com