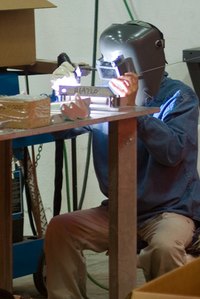 Workers compensation insurance is based on a series of classification codes that label different types of workers in various industries into numerical groups. Insurance companies then set premium rates for each group number. All of your business' employees will be categorized into one or more of these classification codes. Most states use the National Council on Compensation Insurance's (NCCI) standardized classification code system but some, such as California and New York, use their own systems. The NCCI list of classification codes is available by subscription only, not available to the public.
Clerical Office Employees
One of the most common classifications is for clerical office employees. These types of professionals are found in nearly every industry. In California, classification code 8810(1) is assigned to professionals whose sole responsibility is performing clerical activities. If an employee performs additional duties, this code does not apply.
Mortgage Bankers
Classification codes are generally assigned on a "one-business, one-code" basis, according to California's Workers' Compensation Insurance Rating Bureau (WCIRB). For professionals involved in the mortgage banking business, the WCIRB uses classification code 8749. Different codes are assigned to different types of bankers.
Dry Cleaners
Dry cleaners and retail laundry establishments face potential health risks from the chemicals they use. Professionals of this type are given their own classification to reflect the risks associated with that industry. In California, dry cleaners are assigned classification code 2589.
Firefighters
Firefighters may be split into two groups for workers' compensation classification purposes: volunteer and non-volunteer. If you are in a state where this applies, be sure to properly classify your firefighters to avoid under- or overpaying your workers' compensation premiums. In California, non-volunteer firefighters are assigned classification code 7706 while their volunteer counterparts use 7707.
Oil/Gas Refiners
Professionals employed at oil or gas refineries work with explosive chemicals every day. Workers' compensation premiums are calculated to reflect all the dangers present in this occupation including explosion and toxic exposure. The WCIRB assigns classification code 3719 to these professionals.
Other Classifications
Whether your state uses the NCCI guidelines or has created a classification system of its own, there are hundreds of active classification codes covering all types of industries and professions. Speak to your workers compensation insurance agent to determine which classification system your state uses and how best to categorize your employees.