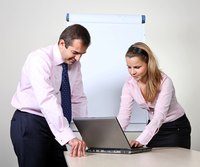 Watching as major corporations encounter major legal and ethical problems has unfortunately become a pastime for many Americans. Businesses that want to keep their doors open and keep consumer confidence high are very aware that they need to formulate—and follow—a strict code of ethics. Finding source material for the ethical code, however, can be a challenge. This article contains sources where many businesses look look first for that source material.
Values
Values are beliefs and attitudes that embody what an individual or an organization stands for. Values serve as a basis for deciding what is important. When writing a code of ethics, the committee in charge should take into account cultural, workplace and employee values. The more employees at all levels who give input, the better.
Code of Ethics of Similar Agencies
There is no reason to reinvent the wheel. Thus, a committee writing a code of ethics for an accounting firm might look at what other accounting firms have done and how they resolve ethical dilemmas. Looking at the code of ethics for as many similar companies as possible will give the committee a strong base on which to build their own ethical principles. Note that no other company's code should simply be copied—it's there to provide ideas only.
Professional Codes of Ethics
Almost every profession, from social work to nursing to accounting, has its own code of ethics. The committee responsible for writing the company's code of ethics might want to take a look at the professional codes of their employees and see if they contain any helpful ideas. For instance, the social work code of ethics places a great value on not discriminating against others.
Religious Teachings
With the strict separation of church and state so clearly mandated in the Constitution, this source of ethics can be problematical for some. But ethics committees do sometimes use religious principles such as the Golden Rule or the Ten Commandments when writing their companies' codes of ethics.
Federal, State and Local Laws
Before a code of ethics is approved, it must always be screened by the company's legal counsel to make sure its provisions are within the law and that it has not left anything out that might make the company vulnerable to lawsuits or other legal consequences.
Key Stakeholders
Customers, suppliers, members of the board of directors, and other community contacts might each have their own take on the ethics code a company should adopt. It makes sense to seek out as many points of view as possible, so that the resulting code of ethics is broad enough to cover most situations that would arise in day-to-day business.