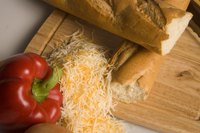 Whether you're a camp director or a parent, you may be looking for affordable lunch ideas for your summer youth camp attendants. There are ways to have a delicious and healthy lunch that won't break your budget. One way is by buying cold cuts and bread in bulk at a wholesale store such as Sam's Club or Costco, then preparing the sandwiches with some mustard, tomatoes and lettuce to take to the camp. Another cost-effective idea is to have each camp attendant bring a dish to camp for everyone to share, and then you provide some extra snacks and drinks.
Creative Leftovers
If you're a parent and want to give your child a cheap lunch to take to camp, create new meals out of the previous night's dinner. For example, if you fixed fried chicken with baked macaroni and cheese, you can take chunks of the fried chicken and mini hamburger buns and make sandwiches out of them. Then you can take huge pieces of cold macaroni, put them in some batter, then make fried patties out of them.
Canned Meals
Because most supermarkets have weekly sales on canned foods, you can purchase a few of these while they're on sale and then heat them up in the kitchen microwave to serve to camp attendants. When purchasing the canned meals, get a variety of flavors so that every child can have something to choose from. Also look out for the "Buy One Get One Free" specials when getting canned meals.
Cooking With Ramen Noodles
Because ramen noodles are often inexpensive and you can create meals with them, buy a few packs of ramen noodles in different flavors along with some ground beef, chicken drumsticks or ham. Bring the camp attendants in the kitchen with you and have them help you cook the noodles and meat. Also add vegetables such as green bell peppers, tomatoes, peas or green beans to the noodles so that the meal will be well-balanced.