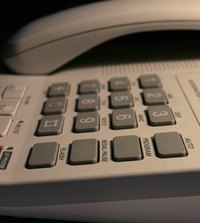 Telemarketing, or marketing and sales conducted via telephone, has become increasingly more difficult over the years due to negative consumer sentiment about this method of marketing and advances in phone technology, such as caller-identification. However, many companies still use telemarketing to engage consumers. Effective telemarketers rely on excellent interpersonal and communication skills to successfully reach consumers.
Know the Product
Many telemarketers are provided a script to read from, outlining the product or service and how it should be pitched, when communicating with customers. However, simply reading off the script without knowledge of the company, product or service will often not be persuasive or engaging enough to earn customer business. An effective telemarketer has a deep understanding of what she is marketing and can create a compelling discussion about the offering that will earn customer interest and trust.
Understand the Customer
On a broad level, telemarketers should have an understanding of the target market. Market research is typically used to provide marketers with information about the consumer base, including demographic information and purchasing habits. Telemarketers can also gather information about consumers from individual interactions, assessing consumer attitudes towards the interaction and the offering. Telemarketers should tailor communication to customer characteristics.
Ask Questions
Asking the customer questions is a way to not only understand the customer but to engage him as well. Customer responses can provide information about attitudes toward the interaction, the organization and the offering. Questions should be sincere, and the customer should be given ample time to respond.
Maintain a Positive Attitude
Many customers have a negative attitude about telemarketing in general. Telemarketers may receive rude comments or hang ups when trying to reach customers. It is important not to get discouraged and to remember that negative interactions may be part of the job. A positive attitude should be maintained and should be evident in all customer interactions. Always use professional language and a pleasant tone of voice.