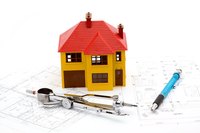 Building a new home can be intimidating when you research the costs of building materials, supplies and labor. You can cut down on home building costs and still get what you want, however. There is no need to settle for less; just learn how to get the best items for the most inexpensive price.
Building Materials and Supplies
Building materials and supplies will be the most costly portion of your home building experience. Do plenty of research In order to cut down on the cost of these items. There is no need to purchase supplies like wood, nails, drywall, light fixtures, flooring, countertops, windows or doors at retail prices. Search for stores that offer recycled materials instead.
Recycled materials have not necessarily been been used. A home builder may have purchased too many materials for his job and returned them. These items may then be available for sale at a discounted price. Check out places like a Habitat for Humanity ReStore in your area. Also consider visiting your local home improvement store for overstock building materials and supplies.
Home Size
The size of your home will play a huge role in the overall building cost. In America, the average home size has doubled since the 1950s. Family size has decreased, yet home size continues to increase. It was once common for two to three people to share a bathroom; now each bedroom generally has its own adjoining bathroom. When considering cheap building ideas for your home, think about your family's needs. Can the kids share a bedroom or bathroom? Can the guest bedroom double as a home office? There is no need to sacrifice what you want; just think creatively.
Appliances
When purchasing appliances for your newly built home, reference the Energy Star guidelines, a method of measuring energy efficiency. The guidelines were established in an effort to reduce greenhouse gas emissions caused by energy use. While energy efficient appliances are sometimes more expensive, they will save you money over time. A blue Energy Star sticker will be present on some appliances like washers, dryers, dishwashers, stoves, refrigerators, microwaves, toaster ovens and blenders. To save money in the long run, purchase only the products with this label.