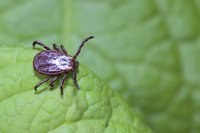 If you live in an area where Lyme disease is common, you probably do careful tick checks of yourself and family members after venturing outdoors in warm weather. Your dog is equally vulnerable to Lyme disease, especially if you don't use a tick preventative medication. If Lyme is endemic in your region, your vet can vaccinate your dog against it. Although relatively safe, like any vaccination there are always risks of side effects.
Lyme Disease
If your dog is bitten by a deer tick transmitting the bacteria Borrelia burgdorferi, he could come down with Lyme disease. Symptoms include limping, fever, appetite loss and lethargy. Some dogs develop severe kidney disease. Dogs don't develop the classic bull's-eye rash found in humans with Lyme disease. However, if your dog tests positive for Lyme disease exposure through a blood test, that doesn't mean he will come down with the disease. The overwhelming majority of exposed dogs don't become ill. If a dog is diagnosed with Lyme disease, treatment consists of a two- to four-week course of antibiotics.
Noncore Vaccine
Unlike vaccinations for rabies, distemper, parvovirus and canine adenovirus, the Lyme vaccine isn't considered a "core," or absolutely necessary inoculation for dogs by national veterinary organizations. Noncore vaccines, including Lyme, are given based on an animal's lifestyle, region and likelihood of contracting the disease. The vaccine has no effect on dogs who have been exposed to Lyme disease, and isn't 100 percent effective for those without exposure. Once vaccinated, an annual booster shot is required to maintain immunity. The vaccine doesn't protect dogs from other tick-borne illnesses.
Side Effects and Contraindications
Most dogs tolerate the Lyme vaccination well, and side effects are uncommon. Side effects which can occur include injection site swelling, itching, hives and swelling of the face. Your dog might appear lethargic, experience appetite loss or run a low-grade fever for a day or two after the shot. Puppies younger than 9 weeks of age should not receive the vaccine.
Vaccinating Versus Not Vaccinating
If you live in an endemic Lyme area, there's a good chance that your older dog has been exposed to the disease. Depending on the region, the odds are as high as 90 percent. If you're moving from a Lyme-free area to an endemic region, ask your vet about vaccinating your pet. If you don't mind the expense or the fact that the vaccine isn't completely effective, the low level of side effects can give you peace of mind. Even if you opt for vaccination, remember that topical or oral monthly tick protection is still recommended.