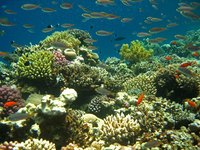 Coral reefs are a part of a diverse ecosystem and serve as a habitat for a variety of organisms that depend on reefs for food and shelter. Coral reefs also protect coastal areas from storms and contribute to local economies through tourism, making reefs vital for both marine life and the organisms and humans that depend on them. However, natural and human-induced stresses can damage and even destroy coral reefs, which, in turn, negatively impacts the life that depends on them. According to the National Oceanic and Atmospheric Administration of the U.S. Department of Commerce, 10 percent of the ocean's coral reefs are damaged beyond repair, and another 30 percent in critical condition face the same fate within 10 to 20 years.
Human-Induced Factors
Human-induced factors affecting coral reefs include recreational activities and pollution. Humans cause physical damage to reefs through activities such as boating or touching coral while snorkeling. Divers and fishermen damage coral reefs not only by overfishing but through the physical damage caused by their methods of fishing or carelessness. Humans also damage reefs through the pollutant runoffs and discharges from agriculture, sewage and other industrial activities. Such pollution increases nutrient levels in the water, leading to the growth of algae and other marine organisms that may smother or compete with coral for space (See Reference 3). These human-induced stresses worsen damage caused by storms and other natural stresses and make reefs more vulnerable to coral disease and coral bleaching.
Natural Factors
Severe storms, such as hurricanes, can weaken coral reefs, making them more vulnerable to human-induced and other natural stresses. However, coral reefs usually recover and can even benefit from most natural weather events. Other natural factors, such as climate change, pose greater threats. Coral reefs require specific environmental conditions, including a specific water temperature, in order to survive. Corals grow best when water temperatures are between 23 and 29 degrees Celsius. However, warming trends caused by climate change increase the temperature of seawater, resulting in an environment unfit for corals to survive. Low-tides, another natural stress, can cause damage to coral reefs in shallow water if reefs frequently emerge during the day time. The resulting overexposure to ultraviolet radiation causes coral to overheat and dry out. Other natural factors affecting coral reefs include long exposures to cold weather, El Nino and corals' predators.
Coral Bleaching
Coral bleaching is a result of natural stresses and one of the most severe threats to coral reefs. Corals rely on microscopic algae called zooxanthellae, living in the tissue of coral in a symbiotic relationship, for most of their energy and nutrients. When stressed by changes in its environment, coral discards its nutrient-providing zooxanthellae, causing the coral to turn white. Coral bleaching mostly occurs when water temperature increases but can also result from other stresses, such as disease or pollution. Though corals can die as a result of coral bleaching, some do survive. However, it make take corals years or decades to recover, and bleaching leaves them more vulnerable to disease or damage from other stresses. The most severe worldwide mass coral bleaching occurred in 1998 and again in 2002, destroying 16 percent of the world's reefs, including some coral of the Great Barrier Reef.