While federal law doesn't require employers to provide their staff with rest or meal breaks, California does. Employers within the state must provide a 30-minute meal break to every employee who works five consecutive hours a day. Employees working more than 10 hours must have two 30-minute meal breaks.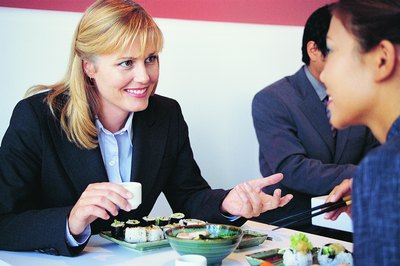 Unpaid Meal Breaks
If a California employer doesn't want to pay his employees for meal breaks, he has to allow them to leave the premises and ensure they are completely relieved of all work duties during their break. He can't require them to remain on the job site or maintain any control over what they do during the designated break time.
Paid Meal Breaks
In some cases, it's just not possible for an employee to be completely relieved of her duties and take a 30-minute break off the clock. When this situation arises, California law permits a working break, provided the employer and employee consent to this in writing. For example, a sole security guard at an isolated building after hours or the only cashier working the night shift at an all-night convenience store may be unable to leave work to take a break. In these circumstances, the employee must be paid her regular wage for the break time.
Additionally, if an employer requires employees to remain on the premises during their meal breaks, California law dictates that employer must provide paid meal breaks. Employees required to remain at work, even if relieved of all duties, do not have full control of their own activities because they are not free to leave.
Other Rest Breaks
Even if an employee is scheduled to work four hours or less, she still is entitled to a 10-minute paid rest break under California law. This requirement largely is an issue of timing, since California does not allow employees to work more than five consecutive hours without some kind of break.
As a general rule, California employers should give their employees a break for every four hours worked. That break ideally should occur sometime in the middle of that 4-hour period, although that's not always practical.
Facilities for Breaks
California employers who want their employees to remain on the premises during meal breaks have to provide a sheltered location away from working areas, where employees can prepare hot food and drinks and sit down to eat. This requirement also applies for any employer that has people working between 10:00 p.m. and 6:00 a.m., when leaving work to find food might not be convenient.
Penalties for Violation
If an employee misses a meal break, or an employer fails to provide one, the employer must pay the employee one additional hour of pay at her regular hourly rate. The penalty is the same even for 10-minute paid rest breaks -- an employee who doesn't get a break to which she's legally entitled gets an additional hour of pay. The state considers each missed break a separate violation, so if an employee missed both a meal break and a rest break, she'd be entitled to two extra hours of pay for that day.