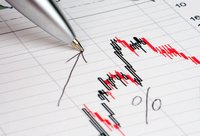 Due diligence is the process where a buyer or investor evaluates the operations, assets and liabilities of a company for sale. Simply put, due diligence helps a potential buyer ensure that he is paying the right price in a business acquisition transaction. In the process of due diligence, a potential buyer usually reviews a firm's current operating data and financial projections.
Capital Structure
Capital structure indicates various sources of funds a company uses to finance short-term operating activities and long-term initiatives. Sources of funds may be short-term and long-term loans, bonds payable, shares of common equity, preferred stock and other financial arrangements. A potential buyer reviews capital structure to identify a company's current owners. He also examines capital structure models to detect liquidity and debt levels.
Financial Condition
An investor reviews the financial condition of a company for sale to identify assets, liabilities and equity. A statement of financial condition is otherwise referred to as a statement of financial position or balance sheet. An asset is an economic resource that a firm owns, such as cash, inventories, property, plants and machinery. A liability is a debt the company must repay when due. Equity refers to owners' capital.
Profitability Analysis
In the due diligence process, profitability analysis helps a potential buyer or business partner estimate revenue and expense levels in the short-term and long-term. A statement of profit and loss, also called a statement of income or P&L, helps identify profit and cost items. Revenue is income a company earns by selling goods or providing services. An expense is a cost incurred in operating activities.
Cash Flow Projections
Cash flow projections provide insight into the future cash movements of a company for sale. A statement of cash flows indicates (in this order): cash flows from operating activities, cash flows from investing activities and cash flows from financing activities. Measuring expected cash flows helps a potential buyer estimate liquidity levels in the short-term and long-term.
Budget Analysis
An investor may review the budget of a company for sale to detect major cost items and how they affect the firm's profit levels. A budget is a financial worksheet that helps senior management set spending limits or thresholds on operating activities. A positive overage, or variance, means that budget amounts exceed actual costs.
Major Business Partners
A potential buyer reviews the major business partners of a firm for sale to identify business model requirements and potential legal commitments that may affect operating activities. A business partner may be a lender, customer or supplier. For example, analyzing operating data for major customers can help a buyer gauge credit risk levels. Credit risk is the loss probability arising from a customer's default.