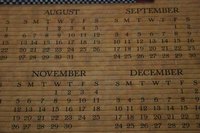 There are many specialized programs to meet the particular needs of churches that need or want to print calendars. You can choose traditional calendars with special dates printed on them, or a large calendar that displays the entire year and simply lists the dates of particular events. Many programs will also keep schedules that note the rental or use of church buildings.
Event Management Systems
EMS or Event Management Systems has a special program for religious organizations. There are three different programs to choose from, depending on the size and needs of your church. A feature that is offered is an easily published calendar. You can choose to share your calendar via printing, emailing, or the Internet. EMS has a master calendar that is available to efficiently record not only the date, time, and location of activities, but also has the capability to give detailed information about the events if you so desire. EMS Lite offers the basics needed for booking meetings and events. You can purchase EMS Professional to have access to room and resource scheduling in addition to the offerings of EMS Lite. EMS Enterprise is also available for the large church to aid in resource management and scheduling. To obtain a quote you can send an email to sales@dea.com or contact them by phone at 800-440-3994 ext. 863.
WeGather.com
With the increased popularity of social networking sites, you may want to consider using WeGather.com for your church calendar needs. An advertising-free zone that has been specially designed to work with iPhones, Blackberries, and Android operating systems, you can easily publish church-wide events or only events for specific groups. WeGather.com allows the site administrator to choose how people join, whether by invitation only or administrator approval. Events can be coded to denote who entered them, and invitations can be issued for events with RSVP options. Payments are based on the number of monthly users. One hundred or fewer monthly users would have no cost associated with it and a free three month trial is available for any program you choose.
Reel Logix
Reel Logix offers church calendar planning software that can be purchased for a one-time fee. Churches are offered a twenty percent reduction in price for a total of $77.20 per licensed copy. It allows you to manage event schedules, staff, and volunteer schedules, plus church programs and classes and religious holidays. The software uses a traditional calendar interface to ease newcomers into the program. You can create your own template and you have an option to publish via the Internet or print your calendar to distribute as desired.