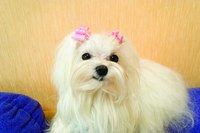 Maltese are small and active dogs in the "toy" category. They have long, silky, white fur, and long, floppy ears. Friendly, playful, cuddly and affectionate, these dogs are great companions for all kinds of people, except, usually, small children. And, overall, these loyal dogs are actually quite hardy and not especially prone to disease. However, all dogs experience illness, and there are some types of illnesses (primarily involving the legs, eyes and mouth) that tend to occur more often in Maltese than in other breeds.
Legs
Like many small and/or toy dog breeds, Maltese are more likely to develop certain leg conditions, the most common being luxating patella. Dogs with this condition experience a displacement or dislocation of the kneecap–either from injury or through genetic inheritance. Some instances of luxating patella stay minor and painless, while others are quite painful and require surgery. Hip dysplasia, a malformation of the hips, is also somewhat common in Maltese.
Eyes
The eyes are one of the most common areas in which Maltese may suffer illness. Their eyes tend to get irritated easy, and some discharge is common and normal. However, the eye area should be kept clean and the discharge regularly wiped off. Left unchecked, the eyes can easily develop conjunctivitis. Maltese, like many small dogs, are also prone to corneal ulcers, which can cause a lot of pain and eventually blindness, if left untreated. In addition, glaucoma, retinal dysplasia, progressive retinal atrophy, cherry eye, dry eye, aberrant cilia and distichiasis are eye conditions that are usually more prevalent in Maltese than in larger dog breeds.
Mouth
The mouth is another area of concern for Maltese. Maltese owners should take great care of their dogs' teeth. They have a tendency to develop decay and infection, and prematurely fall out. As a result, Maltese also develop bad breath easily. Frequent brushing and routine visits to the veterinarian for deep-cleaning will help your Maltese keep its teeth longer. Unmaintained teeth can also cause other problems in Maltese, because infections of the mouth can spread to other parts of the body.
Other Illnesses
Other illnesses that are commonly found in Maltese include diseases of the digestive tract such as colitis, inflammatory bowel disease and pancreatitis. Some non-digestive diseases commonly found in Maltese are white dog shaker syndrome, patent ductus arteriosus, lymphocytic thyroiditis, hepatic portosystemic shunt and several types of hernia and autoimmune disease.