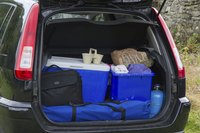 With only 48 hours to enjoy on a weekend getaway, tracking down a local grocery store eats up valuable time. Traveling with your own food is convenient and affordable if you pack wisely. Stick with nonperishables for air travel; your airline may allow coolers, but it probably won't be worth the effort and money to use one. If you are traveling with a cooler, line it with gel ice packs.
Fresh Fruit and Veggies
Ideal for afternoon snacks and light breakfasts, fresh produce is perfect for a short trip. Choose items that won't dent or spoil quickly such as rapes, oranges, carrot sticks, bell-pepper strips and snow peas. Store berries and grape tomatoes in hard plastic food containers to prevent crushing. Sliced apples are a crunchy snack for the beginning of your trip but turn brown and unappetizing quickly. If you have a cooler, pack small containers with hummus and yogurt dip and keep them cold.
Sandwich Fixings
A portable sandwich bar allows even the pickiest members of your traveling group to make a satisfying lunch. Bring a loaf of bread, a package of sliced turkey or ham, sliced cheese and containers filled with sliced lettuce and tomatoes. Packets of mustard and mayonnaise are easier to transport than full-size bottles. All but the bread should be stored in a cooler. Don't forget plastic plates and knives. Premade peanut butter and jelly sandwiches work when you are traveling without a cooler.
Nonperishable Snacks
When you're zipping down the freeway or crammed into an airplane seat, keep nonperishable snacks within reach. Opt for snacks that won't cause bloating, heartburn or uncomfortable fullness. Bags of trail mix, strips of fruit leather, peanut-butter crackers, freeze-dried vegetables, beef jerky and granola bars give you energy. Before leaving home, portion pretzels and popcorn into small baggies. Miniature muffins or cubes of dense banana bread keep for the weekend, and tins of fruit cocktail with tab tops are travel friendly.
Extra Eats
When you're able to travel with a cooler, tuck a jug of milk, a few soft drinks, yogurt and string cheese inside. If you are camping out or staying somewhere that offers cooking facilities, pack fish or meat such as hot dogs or seasoned steaks. Wrap these foods in plastic and a second layer of plastic, paper or foil; keep them at the bottom of the cooler. Whether or not you're traveling with a cooler, bring packets of oatmeal to prepare using hot water.