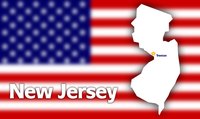 New Jersey, also known as "The Garden State", offers several activities and attractions for visitors. You can see The Statue of Liberty from Liberty State Park, visit the Boardwalk and beach at Wildwood or gamble in Atlantic City. If you're hungry after exploring, you'll find several types of restaurants in New Jersey, including some offering wild game choices on the menu.
The Sergeantsville Inn
The Sergeantsville Inn, located in Sergeantsville, offers a warm, casual dining experience. The brick building is easy to spot, and the Wyeth dining room is upscale but still comfortable. The tavern offers friendly decor for more casual dining. With a small menu, The Sergeantsville Inn only offers two wild game dining choices. The wild boar rack is rubbed with black pepper, rosemary and sea salt and served over roasted acorn squash with walnuts. Another option is the venison London broil, cooked to your liking and served with sauteed spinach and roasted shallot mashed potatoes with caramelized shallot demi-glaze. The tavern menu does not offer any wild game options. The restaurant serves lunch Wednesdays through Saturdays, dinner Tuesdays through Sundays, and is closed on Mondays.
The Sergeantsville Inn 601 Rosemont-Ringoes Road Sergeantsville, NJ 08557 609-397-3700 sergeantsvilleinn.com
Rattlesnake Ranch Cafe
Rattlesnake Ranch Cafe has been bringing a bit of the American Southwest to Denville, NJ since 1993. Despite the nondescript exterior, the colorful inside decor transports you to the Southwest. The menu is fun and colorful, with wild game choices like tacos made with shredded buffalo, lettuce, tomatoes, onions, peppers, mixed cheeses and sour cream; country-fried alligator tenderloin strips with mashed potatoes, country gravy and corn on the side; or an 18-oz. ostrich steak covered with sauteed mushrooms and onions, alongside mashed potatoes and corn. For lighter appetites or for lunch, try a burger or a bowl of chili made with your choice of ostrich or buffalo. Adventurous younger guests can choose a buffalo hamburger or a buffalo cheeseburger off the kids' menu. Rattlesnake Ranch Cafe is open for lunch Mondays through Saturdays, dinner seven days per week, and late into the night Wednesdays through Saturdays.
Rattlesnake Ranch Cafe 595 East Main Street Denville, NJ 973-586-3800 rattlesnakeranchcafe.com

Clydz
Clydz in New Brunswick offers creative fare in a semi-formal atmosphere. There are several wild game items on Clydz' menu such as the pulled buffalo short rib ravioli served with fresh ricotta, tomato and squash ragout; elk and rattlesnake chili smothered with cheddar cheese and a side of tortilla chips; caribou sausage stuffed calamari alongside a greenhouse micro herb salad with sherry vinaigrette; ostrich loin served over watercress, pecans and Tetilla cheese, with coconut curry vinaigrette; grilled buffalo hanger steak with rattlesnake sausage, haricort vert green beans and a sweet potato gratin;or venison rack chop over cranberry calico rice, with baby carrots and a burgundy demi-glaze. Side dish choices include Yukon whipped potatoes, braised spinach or asparagus. Clydz is open Mondays through Fridays for lunch and Monday through Saturdays for dinner. They offer items such as elk and rattlesnake chili, yak ribeye cheesesteak or nachos with a mixture of game meats from the bar menu late-night all week, including Sundays.
Clydz 55 Paterson St. New Brunswick, N.J. 08901 732-846-6521 clydz.com