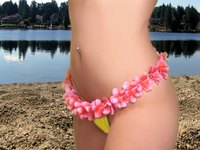 An abdominoplasty, better known as a tummy tuck, is a plastic surgery procedure where the surgeon tightens the abdominal structures and removes excess abdominal skin. Tummy tucks are a popular surgery, with many citing both medical and cosmetic reasons for having it done. The surgery, however, is not always without complications. A common complication is a seroma, or pocket of accumulated fluid in the abdomen. Most seromas are easily treatable.
Aspiration
The most common treatment for a tummy tuck seroma is aspiration (drainage) of the excess fluid, according to dccosmetics.com and trusted.md. The physician simply inserts a needle with an attached syringe into the affected region of the abdomen and drains the seroma. The region of the abdomen where the needle is inserted is usually numb, so the treatment is painless. Because fluid doesn't automatically stop accumulating after the initial aspiration, patients usually require multiple visits to their physician. They usually don't require more than five aspirations. The fluid removed during aspiration should be clear or minimally blood tinged. If the fluid is a different color, it may indicate an infection that may require additional treatment. It also may indicate that the seroma actually is a hematoma, or an accumulation of blood. Physicians can drain hematomas but they're of greater concern because of the increased risk of a bacterial infection, according to dccosmetics.com.
Compression
A physician may prescribe a compression band to treat a seroma. The compression band wraps around the abdomen, pressing gently. This minimizes the amount of space where fluid can accumulate. Compression bands restrict mobility somewhat and may be a little uncomfortable. Trusted.md points out that compression bands may prevent seromas from developing in the first place. Compression bands are both preventative and reactive approaches to seromas.
Hemostatics
Since a seroma is an accumulation of fluid, a physician may prescribe hemostatics to control how much fluid is present. A hemostatic is simply a drug that influences how much fluid the body secretes, according to trusted.md.
Excision
A seroma may not respond to aspiration, compression or hemostatic treatments. In these rare cases, the only option is to drain the excess fluid surgically. The physician will cut open, or excise, the affected area. With today's technology, however, incisions are minimal and cause only minor scars.