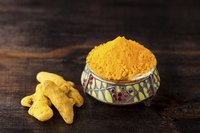 You may have used turmeric in cooking, especially if you enjoy Indian curry dishes, which get their yellow color from this spice. But turmeric may also have significant health benefits because of its biologically active component, called curcumin. A traditional part of Indian herbal medicine, curcumin is a potent anti-inflammatory and antioxidant compound that could help keep you healthy and free of disease, research suggests.
Antioxidant Benefits
Experts at the University of Maryland Medical Center report that curcumin is a powerful antioxidant that helps protect you from free radicals. These chemicals form naturally as a byproduct of digestion, in your skin when you're in the sun and in some organs when you're exposed to environmental toxins such a cigarette smoke. Over time, free radicals can damage cellular membranes and DNA, raising your risk of disorders such as atherosclerosis and cancer. Curcumin neutralizes free radicals so your body can rid itself of them. It may also increase production in your cells of another important antioxidant called glutathione, further protecting you from free radicals.
Anti-Inflammatory Actions
Curcumin also has anti-inflammatory properties, according to a review paper published in 2007 in "Advances in Experimental Medicine and Biology." Inflammation is an immune response that occurs after an injury or if you develop a disorder such as arthritis; it's usually accompanied by pain and swelling. The review paper indicates that curcumin suppresses inflammation and helps keep you pain-free by inhibiting enzymes such as cyclooxygenase-2, or COX-2, which is involved in inflammation. Another study published in 2007 in the same journal confirmed curcumin's anti-inflammatory properties, reporting that it acts in multiple ways to prevent inflammation. The authors suggested that curcumin may have potential as a tool to help lower your risk of inflammatory disorders, although large clinical trials with human subjects are still needed to confirm this.
Protection From Carcinogens
The Linus Pauling Institute reports that curcumin might also stimulate cellular enzymes important in helping your body rid itself of carcinogens and other dangerous chemicals. Called biotransformation enzymes, they make these compounds soluble in water, helping your body eliminate them. Laboratory research also suggests that curcumin might protect you from cancer by helping your body rid itself of potentially malignant cells with damaged DNA. A paper published in the October 2008 issue of "Cancer Letters" reviewed the several ways in which curcumin could help prevent cancer and concluded that it may have significant benefits as an anti-cancer agent, a possibility that needs further study in clinical research.
Sources and Precautions
You can increase your intake of curcumin by using turmeric regularly in cooking, but curcumin makes up only 2 to 9 percent of turmeric. Curcumin supplements are also available from health-food stores, usually standardized to contain 95 percent curcumin. Both turmeric and curcumin supplements are generally considered safe and without significant side effects, although they might cause an allergic reaction in some people. Curcumin could also interact with some prescription medications, such as blood thinners and chemotherapy drugs, and its safety during pregnancy and breast-feeding hasn't been established. Talk to your doctor about curcumin to decide if it might be helpful for you.