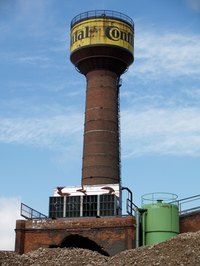 Cities and counties often provide residents and businesses safe drinking water. Distributing the water from reservoirs and treatment plants to the tap in the sink involves an intricate and well engineered system of pipes and valves to control the water's distribution. Different valves serve different functions and are specified for installation depending on the volume, environment and purity requirements for the water. Not only do water distribution take water to various locations but return lines (sewers) bring it back for processing.
Gate valves
Gate valves are used in high-pressure applications such as water feed lines from the elevated water tower. Gate valves are used to open and close straight-line flow but rarely if ever to regulate flow. The water is either on or off. Gate valves come in various materials for use with different media. Stainless steel gate valve can remain hygienic for potable water but are relatively expensive. Cast iron or galvanized gate valves can control the flow of waste water when sanitary concerns are not important.
Globe valve
A globe valves uses a plug-and-aperture design to regulate flow. Globe valves can handle large volumes of water and control the flow variably from off to total flow. A globe valve is used to control water flow between the treatment facility and the elevated water tank. Water usage will drain the water tank at different rates. The pump used to raise the water to the tank will require flow at different rates. The globe valve regulates the amount of water necessary to maintain proper levels to the pump and up into the tank.
Globe valves can also be used for handling wastewater flow into different holding tanks. Water the sewer line is piped into the treatment facilities and flow is controlled depending on the facility's capacity.
Butterfly valve
A butterfly valve uses a flat disc positing in the valve. The disc rotates 90 degrees from fully closed to fully open. The butterfly valve is used to control water with heavy effluent levels. The open disc offers little obstruction to the flow and reduces opportunities for clogging and reduced flow. Butterfly valves can also be used as pressure release valves in potable water holding tanks and reservoirs. The rotating disc can be opened quickly to allow water to drain before problems occur with increased weight and pressure from overfill.
Spigots and faucets
At the end of the water line water spigots and faucets use a small valve to control water. The common household outdoor spigot is a knife valve. Turning the handle raises and lowers the knife regulating flow. Faucets are smaller globe valves with a combination of seals, washers and the plug-and-aperture design to not only regulate flow but in some installations mix cold and water supplies to vary the water temperature.