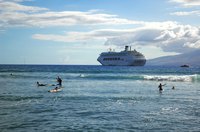 "Grandeur of the Seas" is a popular cruise ship owned by Royal Caribbean International cruise line. Known for its exciting activities, large open areas, and natural lighting, the Grandeur of the Seas is a popular ship for families. There are a variety of family activities on board the ship, but there are several programs that are aimed at providing an exciting cruise experience for children while giving parents the chance to escape for a relaxing day by the pool.
Ocean Adventures Program
The Ocean Adventures Program groups the children into four different age ranges for age-appropriate activities. Younger children aged 3 to 6 have fun with costumes, finger painting, singing, and games. Kids age 6 to 8 play games, do exciting art projects, and make tee shirts. Children between the ages of 9 and 12, conduct scavenger hunts, watch movies, and eat pizza. Teenagers that are 13 to 17 years old have their own list of activities to choose from and are allowed more freedom on the ship. The program runs from 10 a.m. to 10 p.m. every day and opens 30 minutes early on days that have off-board excursions.
FantaSeas Teen Center
Offered as an opportunity to escape from parents, the FantaSeas Teen Center is a coffee house, disco, lounge and alcohol-free bar. The Teen Center hosts activities such as karaoke and dance nights and gives teens independence for a few hours in a safe environment. This option is popular because parents are able to take a night off from parenting, but know that their children are having a fun time on their vacation. The FantaSeas teen Center is open from 10 a.m. until past 2 a.m.
Aqua Babies and Aqua Tots
Children between 6 and 18 months of age are grouped with other "Aqua Babies," while kids between 18 months and 3 years old are "Aqua Tots." These two groups meet for 45 minute play group sessions, which are supervised by an adult cruise staff member. During the play group kids participate in art projects, singing, storytelling, and games. The service is offered at a variety of times throughout the day.
Private Babysitting
Parents with children over one year old have the option of hiring a private babysitter. Childcare staff are experienced and on board. The babysitting service is available from 8 a.m. to 2 a.m. and costs $8 to $10, depending on the number of children. The cruise ship recommends that you reserve a sitter at least 24 hours before they are needed.
Club Ocean
Club Ocean is a colorful ocean-themed activity center for children. In addition to staff-organized activities throughout the day, children are encouraged to play and explore the area independently. Toys, games, and an obstacle course are all part of Club Ocean. The club is open all day from 10 a.m. to 10 p.m.