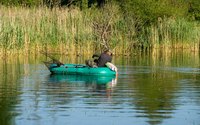 Marsh Creek Lake is inside Marsh Creek State Park in scenic Chester County. The lake stretches across 535 acres in southeastern Pennsylvania. Marsh Creek Lake offers a wide array of activities including swimming, boating and fishing. The lake is home to a variety of fish species such as catfish, crappie, muskie and bass.
License
If you are age 16 or over you are required by Pennsylvania law to have a valid Pennsylvania fishing license. Both residents and non-residents must keep the fishing license on them at all times while fishing. Fishing licenses can be bought by phone, in person from license issuing agents or county treasurer offices. You can also buy a license online at the Pennsylvania Fish and Boat Commission website.
Boating
Fishing can be done at Marsh Creek Lake from both the shore and boat. However, gas powered boats are prohibited on the lake. Only non-powered and electric powered boats are allowed. Boat rentals are available for a fee at Marsh Creek Lake for those with a valid driver's license. Generally, bass fishermen have a higher rate of success when fishing out of a boat. Using a boat allows the fisherman to go where the bass are.
Bass Fishing
Marsh Creek Lake has pads and weeds that grow thick. These areas are where largemouth bass like to congregate. According to Pennsylvania Game & Fish, "Hotspots include the wide bay below Conestoga Road, the bay in front of the state park office and the area by the dam". Bass typically hit on artificial bait such as rubber worms, spoons, jigs and crankbaits. Most bass fishermen prefer using a rod and reel to catch their fish. Trolling is another option for bass fisherman using a boat. Trolling is when the boat slowly pulls the fishing line as it sweeps the water waiting for the bass to take the bait.
To help locate bass, look for schools of bait fish. Typically predatory fish--such as bass--will be near the bait fish.
Water temperature can make or break your bass fishing success. During colder temperatures, bass move to shallow waters and hit more on top water lures. When the water temperature heats up, bass go into the cooler, deeper areas of the water. Typically, you successfully catch bass during the hotter months by using a plastic worm as bait and lowering your line closer to the bottom of the lake.