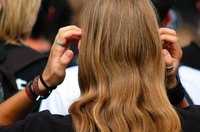 The emergence of gray hair is a normal, natural part of the aging process. The graying process typically begins in the thirties and becomes more pronounced with advancing age. When people begin graying before their thirties or experience graying of more than 50 percent of their hair before 40, they're considered to have premature gray hair. There are a number of factors that may cause premature graying.
Smoking
The link between cigarette smoking and physical ailments has been well established. Detrimental effects may include lung cancer, heart disease, problems with the circulatory system and harmful effects on unborn children, according to the American Cancer Society. A study published in BMJ (BMJ 1996;313:1616 - J G Mosley, A C C Gibbs) indicates smoking can produce physical effects mimicking premature aging, including facial wrinkles, balding and premature gray hair. The study indicates a significant relationship between premature graying and smoking among both men and women, although the causal link was not established.
Disease
Certain diseases may contribute to the development of premature gray hair. According to DisabledWorld.com, a thyroid imbalance or vitamin B-12 deficiency can contribute to premature graying. Hormonal imbalances, malnutrition, anemia and certain autoimmune diseases may also contribute to premature gray hair, according to Medindia Health Network. A 1997 study published in The Journal of Clinical Endocrinology & Metabolism (Vol. 82, No. 11 3580-3583 - Brandon J. Orr-Walker, Margaret C. Evans, Ruth W. Ames, Judith M. Clearwater and Ian R. Reid) indicates a link between osteoporosis, low bone density and premature gray hair. Medical treatments for certain conditions, such as chemotherapy for cancer, may also cause graying of the hair.
Genetics
The most common cause of premature gray hair is genetics, according to Medindia Health Network. Specialized cells located in the hair follicle, called melanocytes, produce melanin. It is the melanin, or color pigment, that determines the color of the hair. The normal aging process reduces the number of melanocytes that are available to produce melanin, resulting in the graying of hair. Some individuals are genetically predisposed to have fewer melanocytes. According to DisabledWorld.com, if one or both of an individual's parents went gray at an early age, the individual will likely have premature gray hair.