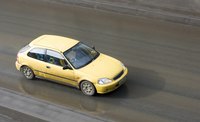 Car dealerships are some of the most fiercely competitive businesses in the automotive industry. To stand out, you must execute successful marketing strategies to increase consumer loyalty. Fortunately, there are several car dealership marketing ideas to help you succeed.
Radio Ads and a Catchy Jingle
One way to tap into your target demographics is to use radio advertising. By carefully selecting air-play formats and radio stations, you successfully reach your consumers. Advertise on a country station to reach truck drivers, for example. Catchy jingles are great tools for brand recognition. Songs that get stuck in people's heads benefit your car dealership. Consumers easily identify your brand when they hear the jingle, so your dealership is more likely to come to mind when they think about buying new cars.
Company Postcard
To add a personal touch to your marketing campaign, send your consumers a company postcard. It is an inexpensive marketing tool to inform your clients about your company and its services. Do not use postcards to hard sell your company by telling them to purchase or order right away. Instead, be subtle and simply invite your clients to visit your showroom or website. Catch their attention by placing a photo of a dashing new sports car you are selling. Mention some important features briefly; perhaps your new vehicles are gas-saving and provide good mileage. Briefly mention any unique selling proposition that makes your products and services irresistible.
Sponsoring Local Events
Participating in local sponsorship programs adds buzz to your company name and is a great tool for promoting your car dealership to a vast number of people. Sponsor concerts, plays and other events. Having your company name on banners, posters and programs makes your presence felt. The key here is name placement. Also participate in social and charitable events. Lend some of your cars to soup kitchens, meals on wheels and other charitable causes. When you have a booth at an event, give a little token to your clients to show your appreciation for their patronage. Perhaps hand out some individually packaged cookies with your company logo as a sweet way of letting other people know who you are.