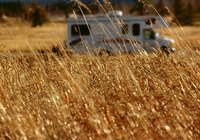 Long-term campgrounds are locations that allow campers with or without recreational vehicles to stay on-site for 180 days or longer. In south Florida, a region known for its recreational activities such as water sports, hiking and fishing, there are several long-term campgrounds available. These campgrounds exist in several of south Florida's cities and towns and vary in price and available amenities.
Bluewater Key RV Resort
The Bluewater Key RV Resort is located 10 miles from downtown Key West and the major hotels on a quiet peninsula overlooking a picturesque bay. The RV resort features large, private RV lots, waterfront lots and private docks with tiki huts. The resort also comes equipped with showers, a club house and coin laundry available to all renters. In addition to lot rentals, the Bluewater Key RV Resort also offers long-term campground lots, RV rentals and long-term vacation home rentals. While the prices for the various lot rentals vary throughout the seasons, Bluewater Key RV Resort gives a 30 percent discount for any booking that exceeds seven days. There is no day limit restriction.
Bluewater Key RV Resort 950 U.S. Highway 1 Key West, FL 33040 305-744-0999 bluewaterkey.net
River Ranch
Located on the Kissimmee River at the head of Kissimmee Lake, the River Ranch RV Resort is a luxury RV park and campground just 60 miles east of Tampa. The ranch features many amenities such as a chapel, an on-site hotel, two swimming pools and a restaurant. You will also find fishing, horseback riding, a petting zoo and a dancing saloon on-site. The resort offers lots and campgrounds for individuals traveling with their own RV and also rents RV campgrounds and timeshare cottages. Rates for the River Ranch RV Resort vary throughout the year, though there is a discount for long-term stays. The ranch also sells RV lots for those wishing to extend a long-term stay.
River Ranch 3200 River Ranch Boulevard River Ranch, FL 33867 561-312-4440 luxuryrvlots.com/riverranch.htm
Cypress Campground and RV Park
Cypress Campground and RV Park is the only campground in the area that offers full RV hook-ups to electric, water and sewer systems. Though located on 19 acres of rural land, the campground is within a short driving distance to Cypress Gardens Adventure Park, Fantasy Flight Air Museum and several local farmers' markets. Disney World, Universal Studios and Epcot Center are less than 45 minutes away by car. All residents and campers at Cypress can have access to cable television, free wireless Internet and a heated swimming pool. Additional amenities include laundry rooms and bathhouses in four locations on the campgrounds. The Cypress Campground and RV Park offers long-term camping and RV lot rentals, in addition to RV and RV lot sales. The price for the camping and RV lots varies throughout the year, though there are discounted prices for those staying for longer than 30 days.
Cypress Campground and RV Park 7400 Cypress Gardens Boulevard Winter Haven, FL 33884 863-324-7400 cypresscampground.com