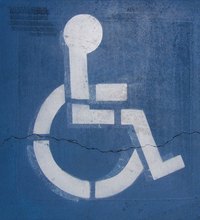 Social Supplemental Income (SSI) is a federal entitlement program run by the Social Security Administration. People with limited income who are age 65 or older, considered legally blind or have a disability qualify for SSI payments. SSI supplements traditional Social Security and Social Security Disability Insurance payments.
Resource Limits
In order to qualify for SSI, an individual or couple must meet certain resource guidelines. Individuals qualify if they have resources totaling less than $2,000, and couples qualify if their resources total less than $3,000. The SSA does not count a number of items toward this limit, including one vehicle, wedding rings, home and land, household goods, educational awards, burial plots and burial funds up to $1,500, and life insurance valued at less than $1,500. The administration does count other real estate owned, additional vehicles, cash on hand or deposited in a bank, stocks, personal property, life insurance policies totaling more than $1,500 and anything else that a person could liquidate to pay for food and shelter.
Blind and Disabled
Individuals who have uncorrected vision of 20/200 in the better eye qualify for SSI as "legally blind." The SSA uses a strict definition of "disabled." A person must be physically unable to do the job he or she performed previously. Furthermore, the disability must be life-threatening, permanent or expected to last at least 12 months. The SSA maintains a list of conditions that automatically qualify as a "disability." Otherwise, the administration will investigate a claim of disability and likely deny a claim if the person can transition to another line of work.
Monthly Payouts
If a person or couple qualifies, the SSA subtracts "countable income" from the maximum amount of a payout to determine the actual amount of the benefit. The maximum monthly payouts for 2010 total $674 for an individual and $1,011 for an individual with an eligible spouse. The SSA exempts certain payments and services from the "countable income," including other government programs, the first $20 of any income, the first $65 of earned income and half of any amount over $65, income tax refunds, disaster assistance and educational grants and scholarships. In addition, some states offer additional payments to SSI beneficiaries. Those rates vary by state.
Children
Blind and disabled children can receive SSI payments as well. Children under 18 qualify, as do adults under 22 who attend school. In order to qualify, the child must not work and earn less than a certain amount of money. The income limit totaled $1,000 in 2010. The income and resource limits also apply but vary based on the number of children in the home. Some states offer a supplemental payout just as they do for adults.