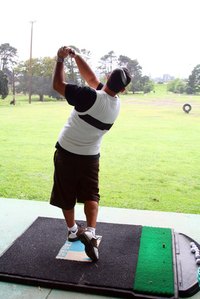 Golf ranges are popular small businesses because the labor and overhead costs are low and the population of golfers continues to grow. A range needs to be at least 400 yards long, which translates into a facility of two acres or more to have enough tee positions to accommodate sufficient numbers of golfers to make the facility profitable.
Choose the Location Carefully
Golfers will drive up to 50 miles to play a highly regarded course, but they will only visit driving ranges that are within 10 miles of their home or office. Your location needs to be in an area with sufficient population to support the facility. You have to balance this against the fact that the more convenient your location, the higher the cost will probably be to acquire or lease the acreage. Visibility is another concern. Your signage will be an important draw. A golf practice facility that is visible from busy streets or major highways is preferable to one that is hidden. Make sure the area you choose will allow you to have lights on the facility at night. A key advantage driving ranges have over the public and private courses is that they do not close when the sun goes down.
Keep the Food Service Simple
Driving ranges often have restaurants on site, the theory being that the facility can create additional revenue streams from selling the food and beverage items to the golfers before or after they practice. Providing consistently high quality food in a restaurant is more complicated than running a driving range, and food and beverage operations are not always profitable. Consider just offering snack items and soft drinks rather than a full bar and restaurant, which would require obtaining a liquor license.
Make It a Teaching Facility
Have a PGA professional experienced with giving lessons available several days a week. The fees will be shared between you and the pro, and having this service is another draw for your driving range. Kids are a target market for golf instruction, too. A driving range is a good place to introduce the game of golf to kids because they don't interfere with adults as they would on a golf course. Organize group lessons for youngsters after school or during summer vacation.
Provide a Variety of Experiences
Having artificial grass for the players to hit from is less expensive than installing and maintaining real turfgrass, but many golfers prefer the feel of hitting the ball off grass. Try providing both. Have a small area of the range with real turf, and then a larger area with the artificial surface. Provide an area for short game practice. The best way to do this is to have a separate putting green and a green to hit pitch shots to. If you don't want to incur that expense or do not have room, create slightly elevated areas 25 and 50 yards from the range and put flagsticks on them to indicate they are greens. The National Golf Foundation has publications and resources to help you design your driving range for maximum player enjoyment.
Don't Skimp on Golf Ball Quality
Golfers spend time at the driving range to perfect their swings. The flight of the ball tells them whether they are making progress or not. Purchase high quality golf balls for your facility. If your customers feel like they are hitting rock-hard golf balls, or the balls are damaged and cut, they won't come back.