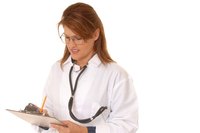 There are many potential reasons the menstrual cycle may stop or be interrupted, some more serious than others. It is recommended that if more than three periods are missed in a year, it is brought to the attention of a health professional. Amenorrhea is the medical term for the absence of periods. Primary Amenorrhea is the classification used when the menstrual cycle has not started by the age of 16. Secondary Amenorrhea is the term used when there has been an absence of menstrual periods for more than three to six months in a woman who has had periods previously. Ologomenorrhea is the medical term for irregular or infrequent periods, usually fewer than six or eight per year.
Hypothalamic Amenorrhea
Hypothalamic amenorrhea is a disorder which occurs when the hypothalamus slows or stops the release of GnRH (gonadotropin releasing hormone), which is a hormone that dictates when a woman begins her period. This condition is most commonly linked with low body weight, anorexic conditions, very low body fat percentage and very low fat and calorie consumption.
Hormonal Fluctuations
There are several hormones involved in the menstrual cycle, including GnRH, estrogen and progesterone. If these levels fluctuate outside of normal values, this may cause irregular or absent periods. An imbalance of the thyroid level can also have an impact.
Exercise
Repeated strenuous exercise can lead to a cessation of menstrual periods. The biggest risk of this occurs when the amount of calories and fat being consumed is less than the amount which is being burned during exercise. Although some women may see this as beneficial, it can lead to other health and fertility problems. The easiest remedy is to increase the amount of fat and calories consumed.
Pregnancy
The majority of women do not have periods during the course of a pregnancy. Obviously, if there is a chance you are pregnant, you should take a pregnancy test to get a definitive answer.
Menopause
Menopause is the most common cause of cessation of the menstrual cycle in women over 50 years of age. Women between 40 and 50 years may experience early menopause. Menopausal symptoms of women between the ages of 20 and 40 are commonly referred to as premature menopause, or ovarian failure.
Other Causes
There are many other possible causes of a cessation in the menstrual cycle. Pituitary tumors, which secrete prolactin are another common cause of secondary amenorrhea. Polysystic Ovarian Syndrome causes infrequent periods, and excessive levels of male hormones. Anatomic problems, such as a blockage in the fallopian tubes can stop menstrual periods, and can have long term fertility implications if left untreated.
Recommendations
If a woman is experiencing irregular or infrequent periods, or the menstrual cycle has stopped, it is advisable to consult a health professional, as treatment may be required. A full medical and family history will most likely be taken. There may be a simple solution to bring the menstrual cycle back into the normal range, but there may also be a need for further investigation and treatment. While many women find it embarrassing to discuss their menstruation, it is not something which should be avoided.