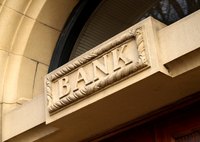 People sometimes do not want or are not in a position to handle money in their bank accounts. For example, a businessman may want someone to make payments from an account while he is out of the country, and young children might not understand how banking works or the value of money. Trustees often handle bank accounts in these situations.
Transactions
A trustee has control over the money in a bank account on behalf of the beneficiary. He is responsible for completing any transactions that may be necessary or requested by the account beneficiary. This includes deposits, withdrawals, getting traveler's checks and transfers to other accounts. Trustees have the legal right to complete these transactions without the consent of the beneficiary, but by default the beneficiary believes the trustee will act in good faith. Trustee law states that a trustee can't use the beneficiary's account for his own gain or satisfaction, so the trustee must justify every transaction he makes.
Records
Trustees keep track of all the money in the bank account. This requires the trustee to keep records of transactions he completes on behalf of the beneficiary. Transaction records include bank receipts, transaction request documentation from the beneficiary, bank statements and a general ledger or spreadsheet similar to a check register.
Prioritization
In some cases, a bank account trust agreement may specify how the trust is to prioritize the needs and desires of the beneficiaries. For example, a bank account trust may specify that a trustee accept a transaction request from the account holder's spouse before the trustee accepts a similar request from the account holder's child. Similarly, a trust set up by a parent may specify that the parent's child (the beneficiary) can't use the account until she reaches the age of 18. The account trustee reviews the trust agreement and upholds it based on the specified priorities. This can become difficult, because beneficiaries sometimes want the trustee to do something other than what the account holder placed in the trust agreement.
Financial and Legal Assistance
If the beneficiary isn't sure what he wants to do with the funds in the bank account, a trustee may offer basic legal and financial advice to help the beneficiary decide. A trustee tries to present all available options. He may refer the beneficiary to an attorney or meet with an attorney himself if the beneficiary's intentions require additional legal expertise.