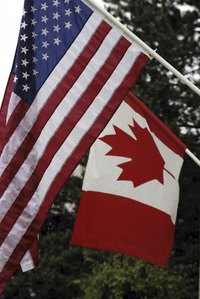 All U.S. customs restrictions apply the same to Canadians as to other foreign nationals. Given the long border between the United States and Canada, as well as frequent cross-border trips by both Canadian and American citizens, the two countries have implemented the Nexus program to expedite border crossings. Being a part of the Nexus program does not exempt Canadians from paying duties at U.S. customs, but it does help speed up the border crossing process.
Nexus program
Members in the joint American and Canadian Nexus program receive expedited processing when passing through border customs for both countries. The program works at 19 border crossings between the two countries. Citizens and legal permanent residents of the U.S. or Canada may apply for the program. Upon approval, members receive a radio frequency ID card that allows them to skip paperwork and proceed directly through customs. Eight Canadian airports also have pre-clearance kiosks that provide even faster processing between the two countries by allowing travelers to clear U.S. customs at the airport.
Food Restrictions
To protect United States agriculture, most food items are prohibited from entering the U.S. from Canada. These foods include meat, plants and plant products (such as fruits and vegetables), dairy products and animal by-products, in addition to non-food items such as soil. Processed foods are generally exempt from this prohibition. Customs has the right to seize any of these items coming in from Canada and other countries.
Duty-Free Items
Canadians and other foreign citizens are allowed to bring certain items into the United States. Visitors may bring in 200 cigarettes, 50 cigars, or up to 2kg (4.4 lbs.) of tobacco without paying customs duties. Individuals over the age of 21 can also bring in up to 1 liter of alcohol. Gifts under $100 can also be brought across the border without paying taxes on those gifts. Personal items that visitors intend to bring with them once they leave the U.S. are also allowable. Customs duties may be assessed on all other items brought across the border.