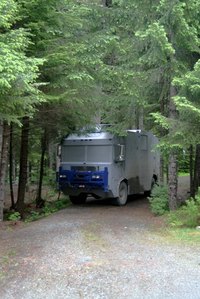 Clothes-free recreation has gained popularity since the 1990's, and many resorts across the country have been established to cater to the nudist lifestyle. Georgia is no exception, featuring a number of nudist parks, many of which are designed to accommodate recreational vehicle, or RV, camping.
Bell Acres Resort
Bell Acres Resort is family-oriented nudist resort located in Northeast Georgia. In addition to primitive campsites and cabins for rent, Bell Acres offers RV sites as well as camper rentals. RV sites with water and electric cost $15 per night, while spots with full hookups cost $20. Scheduled activities at Bell Acres include volleyball, horseshoe, badminton, poker, bingo, potlucks and NASCAR viewing events. The resort is located in Maysville, about 65 miles from Atlanta.
Bell Acres Resort 158 Bell Acres Road Maysville, GA 30558 706-677-2931 bellacres.com
Serendipity Park
Serendipity Park is a family-friendly nudist resort offering primitive tent camping, cabin rentals and RV camping. Accommodations can also be made for full-time or part-time living at the park. RV sites with 30 amps of electricity cost $20 per night, while sites with 50 amps cost $25. Popular activities at Serendipity Park include trail hiking, karaoke, Wii Sports, poker, exercise, dancing and potlucks. The park is located about 90 minutes northeast of Atlanta.
Serendipity Park 95 Cedar Hollow Drive Cleveland, GA 30528 706-219-3993 serendipity-park.com
Paradise Valley Resort and Club
Located about 55 miles north of Atlanta, Paradise Valley Resort and Club offers motel rooms, condos, primitive tent camping and RV sites. RV sites with water and electricity cost $25 per night and sites with full hookups cost $30. On-site activities include hiking, swimming in the facility's pools, ping pong, billiards, sun bathing, sports and drinking at the resort's full bar. Activities that can be found nearby at off-site locations include golfing, horseback riding, shopping or panning for gold.
Paradise Valley Resort and Club 49 Valley Drive Dawsonville, GA 30534 706-265-6110 paradisevalleyclub.com