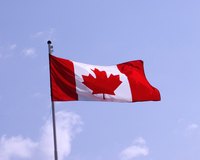 Each year, more than 5 million people visit Canada. Residents of some countries, including the U.S., do not need a visa if they plan to stay less than six months. But, if you plan to stay more than six months, or you are a resident of a country that is not exempt from requiring a visa to visit Canada, you must apply and be approved for a Temporary Resident Visa (TRV) before you can enter Canada. See the references section for a list of visa-exempt countries.
Inadmissability
You may be inadmissible to Canada and denied a Temporary Resident Visa for several reasons. If you have a criminal history, you likely will not be granted the visa, unless your convictions are at least five years old and are not for serious crimes. If you have ties to organized crime or have violated human rights, you are not admissible. You might also be denied due to health reasons, such as a contagious illness or disease. Lastly, if you are not truthful on your application or in your interview, or if you have violated terms of a previous visa (such as staying too long), you might be denied.
Requirements
To be approved for your Canadian Temporary Resident Visa, you must prove to an immigration officer that you have ties in your home country to bring you back by the time your visa expires. This can include a job, a home, a family or other lifestyle details. You must also be in good health, and may be required to take a medical exam during the application process. You also need to show that you have enough money for your trip. There is no set amount needed, but you cannot enter the country without a substantial amount of money for your trip. Lastly, you need a passport or another valid travel document (a passport is best).
Application
To apply for a Temporary Resident Visa, visit the Citizenship and Immigration Canada website, then download and complete the Temporary Resident Visa application package (see references for link). Read each form carefully and fill in all required information. You can then send in the completed application and appropriate fees to the Canadian visa office in your area; the application will instruct you on where to send it. Most applications are processed within one month. The fees are $75 for a single-entry visa, $150 for a multiple-entry visa and $400 for a family visa with multiple- or single-entry options. In most cases, your visa is valid for six months.
Interview
Once you mail in your application and fees, you will need to meet with a Canadian visa officer. You will be notified via mail when the appointment is scheduled. The officer may require a medical exam or request other documentation, such as court records from criminal cases. If you are approved, you may enter Canada on or after the date provided by the officer or included in your approval letter.