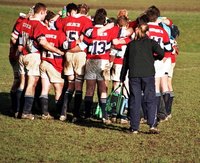 Team challenge events can help to build trust, communication and enthusiasm among members of your team. Organize a daylong or weekend event for your corporate, nonprofit or academic team to focus on fun activities and challenges that will make everyone better prepared to handle the long hours of teamwork required to accomplish the tasks at hand. Just a few hours or days of team challenge activities will improve the efficiency and success of all your team efforts.
Zoom & Re-Zoom
Wilderdom suggests a team challenge activity that involves the famous picture books "Zoom" and "Re-Zoom" by Istvan Banyai. Each player gets a single picture from the book and cannot show it to other team members. The team must figure out the proper sequence of the images without showing them to one another. The team interacts by discussing the images and deducing the order they are supposed to go in. Wilderdom reports that leaders will sometimes gather data to understand the whole story to aid in the team effort. You could also use a set of 30 intriguing and logically sequential photos provided by team members or other sources with themes suitable to your particular team challenge goals.

Tower That Won't Topple
Great Solutions describes a team challenge activity perfect for a team camping trip. Your team can be a group of office workers, a family that wishes to improve its problem-solving abilities or any group of people who want to accomplish a shared goal. The team members must gather sticks, large rocks and leaves, pine cones, moss and about 25 small stones or pebbles. Give your team a minute or two to plan a tower design to support the small stones. Then the team must build the tower and place as many stones as possible on it without the tower collapsing. If you cannot find the recommended supplies, encourage your team to adapt to the circumstances as a further challenge activity. Compete against other teams to see who can accomplish the sturdiest tower the fastest.
Martha's Vineyard SkyLink Project Simulation
Mentoric suggests a Martha's Vineyard SkyLink Project Simulation that involves teams competing against one another to win a bridge-building contract for Martha's Vineyard. Each team must construct a model with supplied materials while learning and implementing a host of best practices to manage the project. The simulation requires each team to complete all given tasks within a specific amount of time. The activity can be altered to include more complexity by requiring teams to complete project risk analyses and other project analysis tasks. Each team constructs and tests the model bridges across a 33 inch gap. The simulation concludes with performance reviews and an assessment of lessons and skills learned during the team challenge.