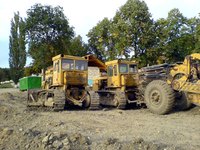 Heavy pieces of equipment are used for many earth moving and building projects. A lot of training and skill is required to operate heavy pieces of equipment. Competitive wages are paid to individuals who operate heavy pieces of equipment efficiently. These pieces of equipment cost contractors a lot of money, but also make them a lot of money.
Backhoes
Backhoes are versatile pieces of equipment that can be used on most job sites. Backhoes usually have buckets in the front and back. The buckets in the back are used to dig holes. These buckets have pieces called teeth that help the bucket penetrate the ground. Backhoes have stabilizers on each side that are lowered to the ground when digging. The buckets in the front have no teeth but are bigger. These buckets are normally used to move piles of loose dirt or stone around the job site.
Bulldozers
Bulldozers are normally used for pushing dirt throughout a job site. Bulldozers have a big blade in front that looks similar to a snow plow. This blade is used to push dirt or heavy piles of debris. Bulldozers have tracks that act as wheels. These tracks are a lot less likely to get stuck in mud than regular tires. Bulldozers are very heavy and are transported by trailers. Driving bulldozers on roads will likely cause damage to the pavement.
Pavers
Constructing new roads requires many pieces of heavy equipment. Pavers are arguably the most important. Pavers lay the new asphalt on the ground in a precise and efficient way. Pavers are driven very slowly along the dug out area where the new road will be constructed. The hot asphalt mix is dumped into a hopper where it is moved around by conveyors. The paver lays the hot asphalt mix on the ground in precise measurements.