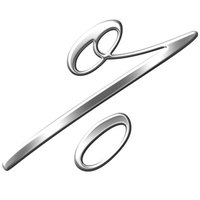 Mutual funds have annual expense ratios that cover the managing and running of a mutual fund. A fund's expense ratio has a direct effect on the return to investors. If a fund portfolio earns 10 percent and the fund's expense ratio is 1 percent, the investors will realize a 9 percent return from their mutual fund shares. The average expense ratio for the different types of mutual funds can help investors evaluate the expenses of their own mutual fund investments.
Stock Mutual Funds
Stock or equity mutual funds invest in the stock market. The Investment Company Institute--ICI--puts out an annual Fact Book that breaks down the expense ratio for different types of mutual funds. Stock mutual funds have the highest average expense ratios. The median expense ratio for all equity funds is 1.44 percent. The median is the number where half the funds have a higher ratio and half lower. The 10 percent of funds with the lowest expenses had ratios of 0.82 percent or less. The top 10 percent of stock funds had expenses of 2.28 percent and higher.
Bond Mutual Funds
Bond funds own debt securities and earn interest from bonds to pay out as dividends to mutual fund investors. A bond fund's expense ratio directly reduces the yield of the fund. According to the ICI, the median yield for taxable bond funds was 0.99 percent and for municipal bond funds it was 0.92 percent. The top 10 percent of bond funds, expense ratio wise, had expenses of 0.52 percent or better. The 10 percent with the highest expenses started at 1.73 percent.
Hybrid Mutual Funds
Hybrid mutual funds own both stocks and bonds. They are often referred to as either balanced funds, asset allocation funds or lifestyle funds. The ICI reports the median expense ratio of hybrid funds at 1.2 percent, right between equity funds and bond funds. The top 10 percent of hybrid funds had expenses of 0.63 percent or lower, and the worst 10 percent were at 2 percent and above.
Money Market Mutual Funds
Money market mutual funds invest in short-term government debt and commercial paper. These funds keep investors' principal stable and pay short-term interest rates. The median expense ratio for money market funds is 0.50 percent. The best 10 percent of funds are at 0.22 percent or better and the worst 10 percent have expenses greater than 0.91 percent. In 2009 and 2010, short-term interest rates were so low that most money market funds did not earn enough from the portfolios to cover the expense ratios. Many funds reduced their expenses during this time of very low short-term investments.