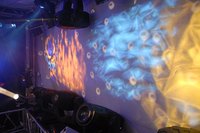 New York City is a popular destination for dance clubs and is known to host some of the most famous clubs in the entire world. An underground dance club is meant to be one that is not widely advertised but instead draws a crowd based on the type of music that it plays. Techno music is electronic, bass-driven music meant for dancing and is very well-known in the United States and Europe. A number of underground techno clubs in NYC feature popular DJs from all over the globe.
Club Shelter
According to its website, Club Shelter is the longest running underground music club in New York City. The club has been providing the trendy SoHo neighborhood with techno and house music since 2002. The design of the clubs is meant to be dark and moody. A large dance area is flanked by a number of tables and a stage area that hosts popular local and nationally-known DJs. The club is accessed through an unassuming door located in an alleyway but is open to the public every night of the week.
Club Shelter 150 Varick St New York, NY 10013 646-862-6117 clubshelter.com
Cielo
Cielo is a massive space that is known to host both world-famous and local DJs who have large followings in the underground music scene. Cielo was designed based on the key focus of techo and dance music. The club is a converted warehouse in the artsy Meatpacking District of the NYC and offers a spacious sunken dance floor. European sound engineers were flown to NYC to create a unique sound system that could handle the bass-heavy rhythms of the music that is played.
Cielo 18 Little W 12th St New York, NY 10014 212-645-5700 cieloclub.com
Love
Love is all about techno, house and heavy dance music and is known to be a hot stop for some of the most popular touring DJs in the world. The mood of the club is dark and the club is lit mainly by a wild dance show that features laser beams and lights that move to the music. A loft-like feel is showcased by exposed concrete walls and floors and the main bar of the club looks as though it were carved into the side of a mountain. The club is located in the Greenwich Village neighborhood of the city which is known to host a number of other clubs and lounges.
Love 179 MacDougal Street Near 8th St New York, NY 10011 212-477-5683 musicislove.net