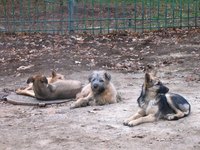 There are five types of worms that can invade your dog's system: heartworm, roundworm, whipworm, hookworm and tapeworm. These worms make it into your dog's body in several ways, such as a bite from a mosquito host or ingesting worm-infested dirt. Worms can cause serious symptoms, including weight loss, appetite loss, coughing, vomiting and diarrhea. The best way to keep your dog free of worms is by using a preventative treatment. Whatever medication you choose, consult with a veterinarian and follow the package directions to avoid an overdose.
Heartgard Plus
Heartgard Plus is a medication that prevents and controls all types of worms in dogs and protects against heart disease. The active ingredients in Heartgard Plus are ivermectin and pyrantel pamoate, both of which kill parasites by attacking their nervous system. This medication should be given to your dog once every month, generally on the same date. It comes in a chewable tablet that has a beef taste, so it is easy to administer. This medication should not be used for puppies that are less than 6 weeks old. Some side effects include, diarrhea, vomiting and drooling.
Interceptor Flavor Tabs
Interceptor Flavor Tabs is a heartworm treatment that kills all types of worms including roundworms, hookworms and whip worms. It also kills worms in their larvae stage. Milbemycin, the main ingredient in Interceptor, causes death by damaging a parasite's nervous system. This medication can be used year-round or seasonally. The dose is one pill per month. If you are only using it during mosquito season, you must start the first dose 30 days before your dog is exposed to the insects. Intereptor tablets are chewable. You can give them to your dog as a treat or break them up and mix with your dog's food. Do not give this treatment to puppies that are less than 4 weeks old. Side effects are not common, but include weakness, seizures, drooling, vomiting and diarrhea.
Iverhart Max
Iverhart Max is used to kill adult and larvae hookworms, tapeworms and roundworms. The main ingredients in this medication are ivermectin, pyrantel pamoate and praziquantel. Ivermectin and pyrantel pamoate cause nerve damage, while praziquantel damages a parasite's skin. All of these ingredients work together to prevent and kill worms in your dog's system. Like most worm medication, Iverhart Max is administered monthly. The proper dose is one tablet every month, on the same date every month if possible. It is chewable and flavored so you can give it to your dog as a treat. If your dog is notorious for swallowing treats without chewing, break a pill into pieces and give it to him. Make sure he eats the entire tablet. Iverhart Max is not for puppies that are younger than 8 weeks old. Typically there are no side effects, but Iverhart Max can cause vomiting, drooling, disorientation and diarrhea.