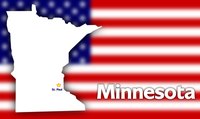 The state of Minnesota borders Lake Superior, the world's largest freshwater lake, and is home to a variety of attractions and activities for visitors to do or see. Attractions include the Duluth Museum, Minnesota Children's Museum and the Minnesota Zoo. Monthly rates are available at some motels in Minnesota for guests looking to stay for a month or longer.
Cedar Inn Motel
The Cedar Inn Motel is located in Starbuck and offers 22 units that are available daily, weekly or monthly. In order to get a monthly rate, guests must sign a contract. Reduced rates are available from October to April. The motel is 5 miles away from Lake Minneaska, which is known for great fishing. Guest rooms have air-conditioning, cable TV and a radio. Two-room family suites are available, as well as nonsmoking rooms and rooms that have an efficiency kitchen. The Cedar Bait N' Tackle is also located on-site and sells tackle, bait and fishing accessories. Local attractions include the Glacial Lakes State Park and the Minnewaska Golf Club.
Cedar Inn Motel 604 North Main Street Starbuck, MN 56381 320-239-4300 cedarinnstarbuck.com
Pine Grove Motel
The Pine Grove Motel offers weekly and monthly rates and is located in Grand Rapids. Motel amenities include horseshoes, sauna, picnic tables, trailer parking and beach access. Blandin Beach offers swimming, fishing, snorkeling and a playground for children. Each room has a small kitchenette, table and cable TV. Local attractions include the Judy Garland Museum, the Children's Discovery Museum and the Forest History Center.
Pine Grove Motel 1420 Highway 2 West Grand Rapids, MN 55744 218-326-9674 pinegrovemotelgr.com
Skyline Motel
The Skyline Motel is located in Alexandria and offers boat and trailer parking, soft water and a picnic area. Single rooms with one queen bed and double rooms with two double beds are available. Rooms feature free high-speed Internet, cable TV, refrigerator, microwave, ceiling fans and air-conditioning. The motel is located within a few miles from a community pool and several local beaches. Local attractions include the Carlos Creek Winery, Casey's Amusement Park and Viking Speedway. The Skyline Motel offers guests daily, weekly and monthly rates.
Skyline Motel 605 30th Avenue West Alexandria, MN 56308 800-467-4096 skylinemotel-mn.com