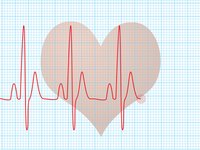 Cardiopulmonary resuscitation (CPR) chest compressions must be strong enough to compress the chest 1.5 to 2 inches, according to the American Heart Association. This requires putting 100 to 125 pounds of force into each compression. As a result, multiple injuries are sustained using this life-saving technique. Survival rates for patients requiring CPR are increased dramatically; therefore, the risk of injury is worth the outcome. Injuries range from mild to severe and require supportive to intensive care, depending on the damage sustained.
Rib Fractures
Rib fractures are rarely life-threatening but the resulting injury from a broken rib can be severe. Signs and symptoms of a broken rib include chest tenderness, rapid breathing, anxiety and agitation. Most broken ribs heal on their own after one or two months, and pain management is required to avoid lung complications, such as pneumonia.

Anterior Mediastinal Hemorrhage
The chest compressions cause capillary damage resulting in collection of blood and fluid in the lungs and chest cavity. The buildup of fluid interferes with respiration and leads to hypoxia or low levels of oxygen in the blood. Signs and symptoms include chest pain and the coughing up of blood. Chest tube treatment resolves the issue.
Lung Contusion
Lung contusions are bruises to the lungs caused by the pressure applied to the chest during CPR compressions. Injury can range from mild to deadly. While most injuries resolve themselves with supportive care and oxygen supplementation, severe instances may require mechanical ventilation and intensive care.