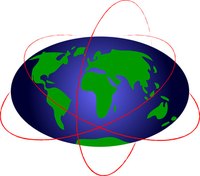 While remaining controversial, global trade, as it becomes freer, carries with it many benefits. Most of these benefits are economic, but there are some that are social and political as well. The basic idea of global competition is that consumers receive the best product at the lowest price. Those products receive the cheapest and most efficient inputs from suppliers around the globe.
Jobs
Overwhelmingly, the main benefit from free global trade is the creation of jobs. The U.S. Trade Representative's Office estimates that the U.S. export sector supports almost 7 million jobs as of 2010. The Heritage Foundation, as of 2000, holds that global trade supports about 12 million jobs in the United States. In addition, high paying jobs are regularly opened up in the export sector because of this trade.
Variety
Global trade means that products and services can come to the United States from anywhere in the world. This means that global trade brings a huge variety of goods to American store shelves. Since domestic producers must compete with this, it continually spurs more efficient production methods and innovation at home as well. There are too many products that would not be available to consumers if only domestic producers supplied the market.
Investment
Global trade means that investors can scan the world for the best place to build their plants and distribution centers. This means that firms can locate close to their sources of raw materials, cutting down on shipping costs and creating a more efficient production schedule. Firms invest not only where labor is cheaper, but also where labor is more productive. This also benefits the United States.
Competition
The free market argument for global trade is that when the world's producers are forced to compete for the consumer dollar, the consumer wins every time. This means that American producers cannot become flabby behind a tariff wall, but must become lean and efficient if they are to survive against foreign competition. Tariffs, or taxes on imports, permit only domestic firms an indirect subsidy and may make them complacent. Competition forces them to work harder to serve the consumer.
Values
The main social benefit to global trade is the export of democracy and transparency. Foreign competition works both ways. If firms in the developing world want to compete with American or Japanese products, they too must become efficient and eliminate internal corruption, if it exists, in order to survive. Corruption harms production and competitiveness, and therefore, those states that foster such practices will suffer in the global marketplace.