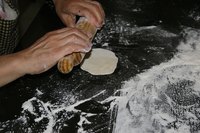 Arkansas catering businesses that prepare and serve food will need to acquire the proper food handling and business permits to operate their businesses in the state. The Division of Environmental Health Protection within the Arkansas Department of Health will assist caterers in securing food handling permits, licenses and approval of kitchen plans to help Arkansas caterers start their businesses on a solid footing.
Kitchen Plans
The Arkansas Health Department must approve a caterer's kitchen plans prior to any food preparation taking place there. A caterer or food preparation business owner needs to submit the kitchen floor plan for all new facilities and a completed Project Cost Estimate Worksheet including name of the business, source of water, wastewater disposal method and details about other kitchen components. The caterer will need to make a review appointment with the Environmental Health Protection Office or submit these materials via mail. If by mail, the business owner will need to include a check or money order. The caterer can call 501-661-2171 to inquire about the amount of fees he'll need to remit with the plans.
Once the Environmental Health Protection Office approves the plans submitted by the caterer, an approval letter will go to both the caterer and the Environmental Health Specialist working at the county health department where the business is located. The local specialist will arrange a pre-operational inspection as well as regular follow-up visits to ensure safe food handling procedures remain in place. Inspection regularity depends on the type of operation: low-frequency businesses are inspected only once or twice a year whereas high frequency businesses are inspected as frequently as three or four times a year.
Kitchen plans are only required for new structures. Caterers taking over an existing kitchen can inquire from the state to see if a kitchen plan is on file. If not, the state may require the business owner to submit a new one. This will be determined by the state health office.
Plumbing Plans
Plumbing plans aren't included in the Food Services portion of the kitchen review as these must be submitted through Protective Health Codes. Any questions about the plumbing plans and setting up an appointment for review can be answered by calling 501-661-2642.
Food Permits
Caterers must qualify for food permit based on the Arkansas Food Establishment Permit Act. These permits are non-transferable and expire one year after being issued. The permits are renewable annually. These permits and fees include Food Establishment, Food Salvage, Out-of-State Bottled Water, In-State Bottled Water and Plan Review Fee.
To qualify for a food permit, even those caterers or food preparation businesses operating out of a home kitchen must secure a permit through the state and be subject to a health inspection.
A Temporary Food Establishment (TFE) Permit is also available for businesses that will only operate for 14 or fewer consecutive days as part of a single celebration or event such as a carnival or multiple-day sports tournament. This TFE must be posted in plain view during the time the food service business is operating. If a food inspector visits the establishment and doesn't find the permit, the business owner could be fined or shut down.
Glove Usage
In Arkansas, food handlers are not required by law to wear gloves when preparing or serving food as gloves haven't been proven to reduce the occurrence of food borne illness. The state health department reports that no studies have proven gloves are any cleaner than hands and in fact, have found that food handlers wash their hands more frequently than they change gloves. Food handlers are required to wash their hands regularly, and if using gloves, to change the gloves after every food handling activity.