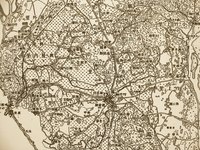 A bank does not have to have the cold institutional look from bygone eras. Wall decor will add warmth and appear more welcoming to your patrons than the impersonal look some banks favor. Fill the walls with items and pictures with a banking theme. Or capitalize on your surroundings with a theme based on the bank's locale. Personalize your bank's decor by daring to do something different and you'll earn a lot of interest.
Wall of Locks and Keys
Your money is safe under lock and key, or it least it was in the early days of banking. Bring a little nostalgia to your bank by decorating a wall with old locks and keys. Hang a large board covered in a natural-colored burlap and fill it with different types of old metal locks and skeleton keys. These items are available at a reasonable price at any flea market, second-hand shop or antique store.
Bankers Hours
Paint a wall with antique clock faces set on the hours of nine and three, which were once considered banking hours. Use stencils to paint the faces of the clocks on the wall . Add real hands from an old time piece or purchase them online and at craft shops. (Search for "clock-making materials.") This wall of clocks will brighten up even the dullest bank wall and remind your patrons of the "bankers' hours" of yesteryear.
Antique Paper Notes
Antique paper bank notes for mortgages, loans, stocks and bonds can be found online for a reasonable price. You can also make copies from your own town's public records. Make a collage out of these old documents inside a large picture frame to hang on your bank's wall. This will give the patrons interesting reading material as they stand in line waiting their turn.
Civic Pride
Fill the walls of your bank with framed pictures of your town or city. Most of your customers would enjoy seeing random shots of places of interest from around their hometown. Change the pictures in the frames quarterly to go along with the season.
Old Maps
Old maps of the area would certainly interest your patrons. Show the progression of growth in your town or city by hanging framed maps in chronological order.