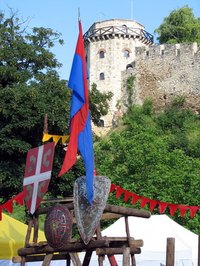 Serving up traditional medieval fare and featuring live entertainment from costumed performers, medieval restaurants can offer a fun night out and a unique dining experience. There are several medieval-style restaurants to choose from in Pennsylvania and New Jersey, each presenting a distinct experience.
Bube's Brewery
Located in Mount Joy, Pennsylvania, Bube's Brewery is a historic 19th-century brewery, still intact and functioning but converted into four restaurants, a hotel and museum.
Bube's Brewery offers a variety of live entertainment and special events, including a medieval feast offered most Sunday evenings in the Catacombs restaurant. The Catacombs restaurant is located underground in the cellars of the old brewery, which is decked out to resemble a medieval dungeon. The medieval feast menu features traditional fare of the day – simply prepared meats and breads primarily. Costumed servers, dressed as minstrels, wenches and beggars provide service and entertainment. Medieval feasts can also be arranged throughout the week. Recommended for adult audiences; feasts suitable for children can also be arranged.
Three other restaurants are located within Bube's Brewery. The Alois restaurant is located in the original bar and dining rooms in the Victorian hotel portions of the brewery and features light, tavern-style fare; Bottling Works is located in the old bottling plant of the brewery and serves lunch; and the Biergarten is an old-style outdoor beer garden that serves an array of local and international beers, as well as lunch and dinner.
Bube's Brewery 102 North Market Street Mount Joy, PA 17552 (717) 653-2056 www.bubesbrewery.com
Medieval Times
Medieval Times is a fully imagined medieval restaurant and entertainment complex, with nine locations including one in Lyndhurst, N.J., just a few miles from midtown Manhattan. Set in an authentic-style medieval castle, the Medieval Times in Lyndhurst, features nightly "feasts" and performances by costumed Knights, kings and queens who enact scenes of the medieval day, as well as a tournament, enhanced with Hollywood-style special effects. The Medieval feast menu includes garlic bread, oven-roasted chicken, spare ribs, potatoes and tomato bisque soup.
Medieval Times 149 Polito Ave Lyndhurst, NJ 07071 (866) 543-9637 www.medievaltimes.com
Shakespeare's Restaurant and Pub
Located in Ellwood City, Pennsylvania, Shakespeare's Restaurant and Pub is set in a gray stone, medieval-style castle, complete with a moat and wooden drawbridge. The castle is adorned with imported armored knights and gargoyle lights to cast a medieval tone, but the cuisine is not authentically medieval. The restaurant, located on the first floor of the castle, features modern American cuisine for lunch and dinner.
Shakespeare's Restaurant and Pub 1495 Mercer Road Ellwood City, PA 16177 www.shakespearesrestaurant.com