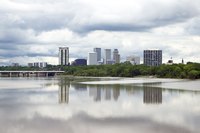 Being over 18 but less than 21 can be a frustrating experience when looking for something to do after dark. In Tulsa, you'll find a few places where you can dance to the music's beat downtown or enjoy other forms of entertainment in a nightclub setting. The Brady Arts District and Blue Dome Entertainment District are two areas in the heart of Tulsa that have clubs open to young adults. Be sure to bring your ID to gain access to age-restricted venues.
Heading Out on the Town
Not all nightclubs in Tulsa allow patrons who are under 21 years old. If you are looking for a place to listen to music and hit the dance floor, your hotel lounge is a good place to start. Renaissance Hotel's Mercury Lounge provides a selection of rockabilly, psychobilly and traditional country played by local bands and well-known artists. The historic Mayo Hotel's rooftop lounge has drinks and dining with live music on weekends. Look for other 18- to 20-year-old-friendly entertainment in restaurants with live music on site.
Night Clubs
In nightclubs serving alcohol, patrons under 21 usually wear special wristbands different from those worn by people who are of legal drinking age. Club Majestic is the largest nightclub in the city and lies in the Brady Arts District. Eighteen- to 20-year-olds are welcome to attend events and dance the night away on its lower level, while the mezzanine level is reserved solely for guests 21 and older. At the Caves, three dance floors are manned by two DJs and a live band. The club serves dinner from 4 to 9 p.m. and 18- to 20-year-olds are welcome before 9 p.m.
Entertainment Clubs
Other entertainment venues such as Cain's Ballroom in the Brady Arts District are typically open to all ages for concerts and events. Those wishing to purchase alcohol must show a valid government-issued ID at one of the establishment's bars. Just south of Cain's, Vangard provides an intimate setting to see up-and-coming bands. In the southeastern part of the city, Imperio Norteno Event Center hosts bands and uses the bracelet system to distinguish guests under 21.
Bump and Grind
When you're 18 in Tulsa, you are allowed to enter some strip clubs legally. Like nightclubs and other entertainment venues, patrons 18 to 21 wear a special wristband to indicate that they should not be consuming alcohol. Grab a bite to eat at Cloud 9 Men's Club from the buffet that features pizza, hot dogs and other hot foods. To see male dancers, check out Mojo's in central Tulsa.