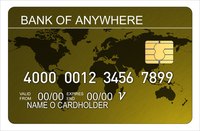 Many Americans have at least one credit card in their wallet. Consumers use their cards for everyday shopping at the grocery store as well as for special, one-time purchases. Not all credit cards are created equal, however. Before you sign up, do your homework. There are a few important factors you should consider when applying for a credit card.
Interest Rate
The interest rate is the rate charged or paid for the use of money. It is tied to a financial indicator, such as the prime rate, and is expressed as the annual percentage rate (APR). The higher the interest rate, the more money you'll pay in interest. A fixed rate card maintains the same interest rate from month to month. A variable interest rate fluctuates from month to month, and can increase your overall balance as the amount of interest you're charged increases. Try to obtain a fixed rate, if possible, to help avoid any unforeseen surprises down the road.
Credit Limit
Credit limit is the amount of money the lender is willing to allow you to borrow. Consumers with good credit can receive credit limits into the thousands. On the other hand, consumers who have damaged credit may receive a card with a limit of a few hundred dollars. It's important to have a credit limit that gives you room to use the card as necessary without going over your credit limit. Since the passage of the 2009 Credit Accountability, Responsibility and Disclosure Act (CARD Act), credit card issuers are no longer allowed to charge you a fee for going over your credit limit. Still, you should avoid doing so. Maxing out a credit card pushes the balance due beyond your available credit, and this may damage your FICO score.
Fees
Credit card issuers often come up with many ways to charge fees to customers. One of the most well-known is the annual fee. Depending upon the card, the annual fee for credit cards ranges from zero to $495 for a Visa Black Card and $2,500 for an American Express Black Card. Credit issuers also charge fees for late payments, cash advances, balance transfers and for requesting an increase in your credit limit. The dollar amount of the fees vary from card to card. Before applying, you have to decide if the assessed fees make owning that particular card worth it.
Reward Options
What attracts many consumers to one card over the other are rewards. These incentives can arrive in the form of free airline miles, cash back offers and discounts off purchases. Make sure the card you get has the kind of reward system that will work for your lifestyle. Learn about restrictions on the rewards or expiration dates on points. Also note that some reward cards have annual fees so even if the rewards are free, the card isn't.
Spending Habits
If you're the type who likes to carry a balance, then you have to ensure that the card you choose will allow it. Certain cards, like the American Express Platinum, require you to pay your balance in full each month. If you charge $1,000, you must pay $1,000 when the bill arrives. This isn't feasible for some consumers. Read the terms and conditions carefully before accepting the offer to ensure you don't get in over your head. Additionally, if you sign up for a rewards card, make sure your spending in a given month or year will add up to qualify you for those rewards. If not, then that card may not be the best option for you at this time.