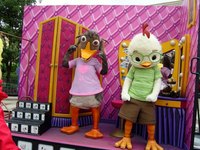 Disney vacations are often considered family events, but the amenities at Disney World, Disneyland and on Disney Cruise Line cater to many vacationers. This includes single adults. A solo trip can offer two key advantages: lots of "me" time that traveling with others just can't provide, and lots of flexibility.
Dining
Disney's dining options are nearly endless. Snack around Epcot's World Showcase all day, or have a Dole Whip at Disneyland for dinner! The cruise line dining rotation is a chance to comfortably mingle with others. Some of Disney's premier restaurants are also prime spots for memorable solo experiences. Disney World's Jiko and Flying Fish Café restaurants, as well as Napa Rose at Disneyland, are among those with chef's tables. Consider a special event, such as "Dine with an Imagineer," where your meal companion is part of the team who created the parks!
Walt Disney World Dining 407-WDW-DINE
Disneyland Dining 714-781-DINE
Shopping
For the shopaholic, single travel is ideal. Spend hours browsing the unique gift shops of the theme parks and Downtown Disney areas in Orlando and California. Disney resort guests can have purchases sent back to their hotels, so you don't even have to worry about carrying anything. Again, the flexibility and freedom of being single allows you to buy what you want, when you want.
Tours
Solo travelers will have a memorable experience with any of Disney's theme park tours or cruise excursions. Just some of the offerings include a look inside Florida's Magic Kingdom underground tunnels, swimming with dolphins or a Segway tour of California Adventure Park.
Walt Disney World Tour Department 407-WDW-TOUR
Disneyland Tour Department (714) 781-4400
Theme Park Tips
When it comes to theme parks, singles have a great advantage on Disney's most popular rides and attractions: the single rider line. This line often has a much shorter wait time, as singles are brought up front to fill up ride vehicles that aren't fully occupied by pairs or groups. It's also a great chance to meet other Disney fans and share some exciting memories.
Resort Hotel Tips
The Disney resort hotels have many activities and amenities for adults. Book a massage or facial at the spas at Disney World's Grand Floridian, Saratoga Springs Resort or the Swan and Dolphin. Disneyland's Grand Californian Resort hotel, the flagship of the resort on the west coast, has spa facilities, as well. Nearly every Disney resort offers a "quiet pool" that is ideal for adults looking for a swim without children around. Grab a nightcap at one of the many lounges at the resorts.
Cruising Tips
While Disney Cruise Line does not offer specific cruises for singles, solo travelers can still take advantage of many "adults-only" amenities. Like the resorts on land, DCL ships feature a spa, quiet pool and lounges for adults. Spend the day relaxing on deck in a chair, sipping drinks and reading a good book. Spend the evening in the ship's nightclubs. Enjoy brunch, high tea or dinner at the adults-only Palo restaurant on the ship's 10th deck.