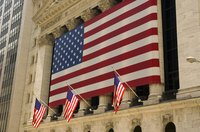 Market risk, also called systematic risk, is the risk that a given security or portfolio will incur losses due to daily movements in market prices. Market risk premium is the additional rate of return beyond the risk-free rate (the rate of return on a U.S. Treasury bill) offered by security issuers to compensate investors for any associated risk. Market risk premium rises with increasing levels of market risk. Though numerous variables contribute to the magnitude of market risk, there are a few which have the heaviest impact.
Interest Rate Levels
Interest rates represent the cost of borrowing money. High interest rates are characteristic of steady economic growth, while a decline in interest rates indicates a contraction in economic growth. Economic growth indicates lower market risk, thus higher interest rates may accompany a decline in market risk premiums. Likewise, a decline in interest rates may be accompanied or followed by a rise in risk premiums due to heightened economic uncertainty.
World Events
Circumstances both predictable and unforeseen have an economic impact as well as an impact on people's perception. As a result, events such as environmental disasters (ex. oil spills), natural disasters, and business news reflecting poorly on a given company or industry may all result in increased risk due to a rise in uncertainty among investors and consumers. Substantial calamities result in higher risk premiums.
Wars
International armed conflict is a source of immense uncertainty because of how it affects variables including the availability of productive resources, taxation, and the possible shifting of industrial demands from consumer to government/military. Again, the uncertainty driven by war means greater risk and, therefore, higher risk premiums. As such conflicts phase out toward resolution, the economy and markets respond with growth and consequent decreases in risk premiums.