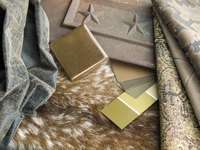 A western theme gives you a chance to show off you enjoyment of the legends and movies of the old west and brings out the inner cowpoke in you as you plan the room's decor. Repurposed items, found objects and yard-sale finds help you pull off this decor style even on a budget.
Rough It Up
Instead of buying new furniture, modify what you already have to fit your western decor theme. Wooden furniture can be sanded and antiqued to appear rough and aged. If you have coffee tables, headboards and other pieces that are not wooden, try a coat of crackle paint, stencil on some cowboy hats, or faux finish with a paint technique that mimics wood grain. For loveseats, couches, chaises and armchairs, find slipcovers made from low-priced imitation suede or leather.
Up the Wall
Options for wall treatments are varied. Paint is easy on the wallet; buy a few gallons and put a western-themed mural on an accent wall. Create a faux wood plank finish with a wood-graining comb, paint and glaze. Find or make some old-fashioned "Wanted" posters and put them in inexpensive frames. Or, hang items such as branding irons, horseshoes, coils of rope or a mix of bonnets and cowboy hats.
Final Touches
Save money by making your own rugs, curtains, and bedspread, or, if you can't sew, find a friend or relative to make them for you. Search fabric stores for inexpensive western-theme materials such as gingham, chambray or even denim. Another option is to decorate the sheets, pillowcase or even the curtains with stamped designs such as a horseshoe or cowboy boot using craft stamps and fabric paint. Search garage sales for an antique chandelier to replace the light fixture. Use a quart mason jar as a vase, and instead of pricey flowers from a florist, fill it with freshly-picked wildflowers. Tie a handkerchief here and there, and bring in a potted cactus or two.