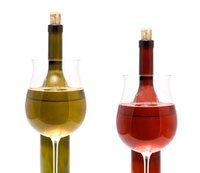 Boasting lush landscapes and excellent grape-growing conditions, Virginia plays host to more than 150 wineries. The commonwealth also features 15 wine trails, including the Heart of Virginia trail which covers wineries located near the capital city of Richmond. Visitors to the region can also enjoy such outdoor activities as hot air balloon rides and picnicking.
James River Cellars Winery
Located 10 miles north of Richmond, in the town of Glen Allen, the James River Cellars Winery offers wine tasting throughout the year. The winery features 15 different flavors of the red and white variety, including a cherry-tasting Montpelier and a Pinot gris with a citrus flavor. On certain Fridays, the winery plays host to the Fridays on the Patio event, featuring live music, light snacks and wine tasting in the outdoors. Visitors may reserve the winery's event facility or its lush grounds for special private events, such as parties or weddings.
James River Cellars Winery 11008 Washington Hwy Glen Allen, VA 23059 804-550-7516 jamesrivercellars.com
Lake Anna Winery
Guests can request a behind-the-scenes tour of the Lake Anna Winery, which resides just one hour north of Richmond. Standard wine tasting opportunities are available year-round. The facility also plays host to such special events as fundraisers, concerts and holiday-themed events. The winery produces about 15 wines, including red, white and sweet wines. Some of the bottles feature special labels depicting the area's historic past, specifically Civil War battles. Lake Anna sits just three miles from the winery offering excellent fishing, boating and swimming conditions.
Lake Anna Winery 5621 Courthouse Rd. Spotsylvania, VA 22551 540-895-5085 lawinery.com
New Kent Winery
Situated 30 miles east of Richmond, the New Kent Winery features such wines as Merlot, Chardonnay and Vidal Blanc. Sprawled across 17,000 square feet of land, the winery offers state-of-the-art wine making facilities and a massive tasting room. The cost of the tour includes a sampling of wine, a baguette for palate cleansing, and an etched souvenir glass. New Kent Winery also offers various wine clubs, which, depending on the level of membership, may come with discounts, newsletters and a case of wine.
New Kent Winery 8400 Old Church Rd. New Kent, VA 23124 804-932-8240 newkentwinery.com